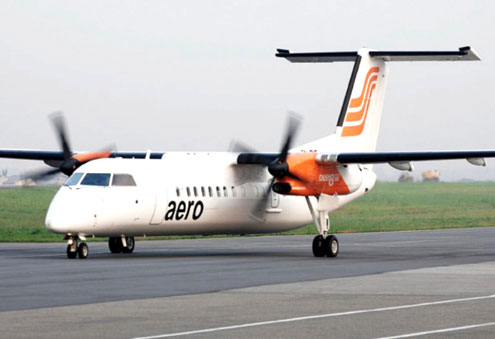 Last week, Aero Contractors, the oldest indigenous carrier in the country, said that it will not hesitate to blacklist any passenger who assaults or abuses any of its employees, especially in the air.
At different times, there have been reported cases of complaints by passengers who booked Aero tickets and also the unruly behaviour of passengers on board.
"The increase in air rage has prompted Aero to take the decision to blacklist any passenger who assaults or verbally abuses its staff when trying to carry out their official duties," said the carrier in a press statement.
Explaining the air rage to encompass a wide variety of behaviour from passengers that pose a serious threat to safety of persons in flight, the airline disclosed that it is unfortunate that passengers' assault and abuse on airline employees have increased significantly over the last few years.
"The vast majority involves relatively simple acts of defiance, but sometimes it escalates to obnoxious behaviour and even brutal violence against airline staff performing their official duties," the carrier said.
Robert Prophet, Head of Commercials for the airline, explained that anybody blacklisted by the carrier will not fly on any of its aircraft, adding that Aero would want the Nigerian Civil Aviation Authority to also blacklist the person.
"Henceforth, the airline will practise a zero-tolerance approach to this unacceptable behaviour," he said, adding, "we are not going to accept any assault from any passenger no matter their status and such passenger will be blacklisted and we would ensure that such a person does not fly with us again. We would also request that the Nigerian Civil Aviation Authority (NCAA) blacklists such a passenger and his or her name be published in the newspapers. Aero confirms that workplace assault on employees is unacceptable and will assist the staff by providing civil proceedings against any disruptive passenger."
Robert further requested other carriers in the country to follow suit, as he argued that the initiative would protect the workforce of airlines through what he described as a "name-them-shame-them" practice.
While Consumers' Advocate agree that Aero Contractors has every right to protect its employees from perceived assault of its customers, it must also be pointed out that the airline must also ensure that its several inadequacies that prompt its customers to take laws into their hands are attended to.
Several times, passengers have had to wait for hours on delayed flight with no reasonable excuse or apologies from the airline. Instead of addressing these issues, the management is taking a hard stance of blacklisting passengers.
Consumers' Advocate is not in support of unruly behaviour by passengers, neither is it in support of unfair standard.
It must be noted that Nigerian passengers are not mad to have gone to the airport to assault airline staff, some of who simply lack courtesy. The unruly manner they attend to passengers makes one wonder if they ever received any training on courtesy.
Instead of taking a hard stance to blacklist passengers, Aero Contractors should look inwards. Nigerians travel all over the world and never had it been reported that any was blacklisted for unruly behaviour. This record simply shows Aero Contractors'  passengers may not be the real problem.
Instead of threatening to blacklist "unruly" passengers, the airline should improve on its services, as no reasonable passenger, who enjoys the best of service, will assault its airline staff.
Consumers' Advocate believes that the announcement by Aero Contractors should have been an appeal and not a warning. Let the airline do its part and the passengers will also do their part.
Load more