A 25-year old Benenois Michael Joseph, who was hired as a househelp by a military officer but escaped to rob with his (master's) gun has been arrested and paraded by the Lagos State Police Command, Oduduwa, Ikeja, Lagos State, Nigeria.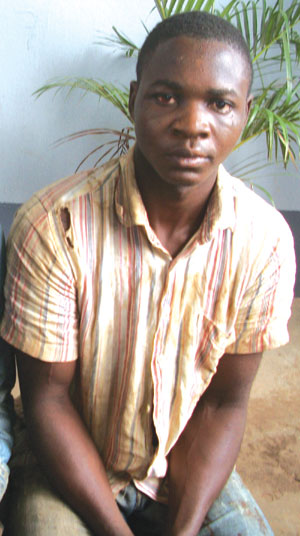 According to the police, Joseph was arrested with a Brownie pistol and six Nokia cell phones he stole at gunpoint in a shop at Ayobo Road, Ayobo.
Michael told P.M.NEWS that when he came to Nigeria from Cotonou, Benin Republic to seek greener pastures, he worked as a househelp and sometimes worked with borehole drillers.
On 22 May this year, Michael said his friend introduced him to an Army officer in Abuja who engaged him as a househelp and paid him N10,000.
But he said he worked for only three months because he was not satisfied with the pay. He decided to steal his master's gun with the help of the officer's brother.
Narrating his experience to our correspondent, the shop owner, Ujebom Ukechukwu  said: "The man (Michael) came to my shop and pointed to five phones worth N7,500 each. Since I have not sold up to N35,000 at once before, I became suspicious and called the police.
"But before the police came, Michael had already brought out a gun and pointed it at my brother to write a receipt of N35,000 for him. Unknown to him, I came from behind, pushed him against the glass door which got broken and before he could cock his gun, people around assisted me to keep him until the arrival of the police."
The Divisional Police Officer, DPO, Ayobo Police Station, Julius Isijola took control of the situation if not the man would have been lynched.
Interrogated by the police, Michael Joseph said: "I thank God that the mob did not kill me before the police came. I don't even know how to cock the gun. It's the work of the devil."
Commenting on Michael's arrest, the Lagos State Police Command, Police Public Relations Officer, PPRO, Supol Frank Mba, advised members of the public to get names and phone numbers of DPOs in the areas they live so that they can contact them when necessary.

—Lucky Lawal
Load more