FIFA Executive Committee member Amos Adamu came under fire yesterday at the opening session of the inquiry set up by the National Assembly into the causes of Nigeria's football troubles.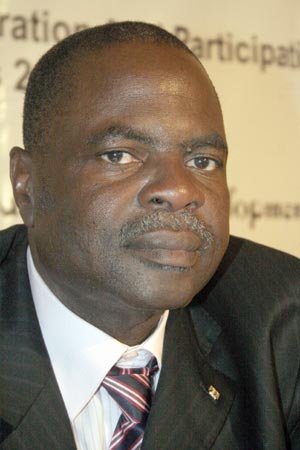 But, Adamu responded by saying he would not be intimidated out of sports and challenged his accusers to come up with concrete proof of his wrongdoing.
"It is unfortunate that one man has held Nigerian sports down for too long,"Kaduna State Commissioner for Sports and Youth Development, Mohammed Abdulazeez, told the forum.
"It is wrong for people to wonder where the problem of football in Nigeria lies when Adamu himself had said he could not afford to reprimand those who piloted the affairs of the country to the 2010 World Cup because he brought them to office.
"We are about to take the same path we took four years ago at the Sheraton Hotel, which took us to where we are today. That was when some people out of selfish interest decided to bend the rules so as to remove Ibrahim Galadima from office; then it was comfortable for them. That was how the same people that took us to our present predicament were elected."
But Adamu refused to shoulder the blame, describing his accusers as ignorant.
"Nobody can intimidate me out of sports; it is what I know how to do. Let me also say it here that I will always take responsibility for my actions and those of my workers, but the truth is that most of the people talking have no stake and they don't know what they are talking about. So you can only sympathize with them because they don't know."
Abdulazeez however, was having none of that. "Where were you Dr. Adamu when the NFF illegally elongated the tenure of the State FAs? What did you say?
"Everything is all about selfish interest because people will always want to put those that will protect their interest in power. That illegal decision taken in Makurdi two years ago must be reversed before we conduct any election, nobody should intimidate us with FIFA."
He challenged Adamu to call on the NFF to hold states' FA elections before the NFF elections if he had the interest of Nigeria at heart. The hearing  continues today.
Load more