The PDP in Ogun on Tuesday, urged former President Olusegun Obasanjo to speak out on the crises rocking the party in the state.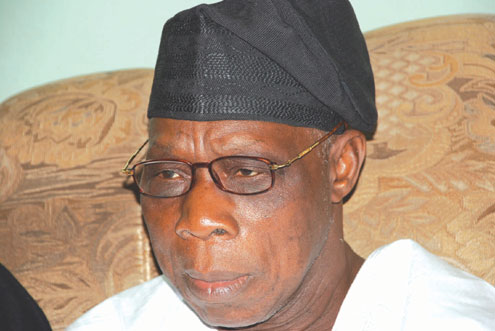 The party told the former President that his opinion was urgently required, particularly on the dissolution of the state's Party Executive  by the National Working Committee (NWC) to know where he belonged.
The News Agency of Nigeria (NAN) reports that the NWCÂ  on Friday ordered the dissolution of the Chief Joju Fadairo-led executive to allow for harmonisation of party offices.
The national body of the party had also directed that the 29 party offices be shared between Gov. Gbenga Daniel and the Jubril Martins-Kuye factions of the party.
While the Martins-Kuye faction is expected to produce the chairman and 15 other offices, the Daniel faction is allocated the secretary and 12 other offices.
However, hundreds of party stalwarts loyal to the governor besieged the party secretariat in Abeokuta, on Tuesday, condemning the role, allegedly played by Obasanjo since the crises started in 2008.
They claimed that Obasanjo's silence had portrayed him as having a tacit support for one faction against the other.
Chief Kola Onadipe, the state's Commissioner for Water Resources and Rural Development, said the development had been giving party faithful a lot of concern.
He described Obasanjo as the major beneficiary of the dissolved executive, saying that Obasanjo constituted the delegates who voted the former President as the Chairman of the Board of Trustees (BOT) of the PDP.
"This is the time to speak out. Chief Obasanjo should speak out now and tell us where he belongs on the issue of dissolution. Enough of his silence. We know that he is a wise man, and that at the appropriate time, he will want to talk.
"But, we want him to talk now as a former President, BOT Chairman and father of Ogun State, he must talk now and let us know where he belongs. There are times that silence is not golden, and the time is now," Onadipe said.
The Commissioner also accused the PDP National Chairman, Dr Okwezlieze Nwodo, of insincerity in his harmonisation programme.
"He is also a beneficiary of harmonisation process, and that is why he is campaigning for it now. But he should be made to know that harmonisation is illegal and unconstitutional," he said.
Chief Titi Ajanaku, a former Special Adviser to the President on Women Affairs and governorship aspirant, however, called for tolerance and understanding among party faithful.
She also charged them to wait for the outcome of the PDP National Executive Council meeting, scheduled for Thursday for the party's final decision on the dissolution.
Other speakers include Chief Tunde Alabi, the state's Commissioner for Local Government and Chieftaincy Affairs and Mrs Lola Abiola-Edewor.
NAN reports that Daniel and the former chairman were conspicuously absent at the rally which was attended by party faithful from all the 20 local government areas in the state.
Load more