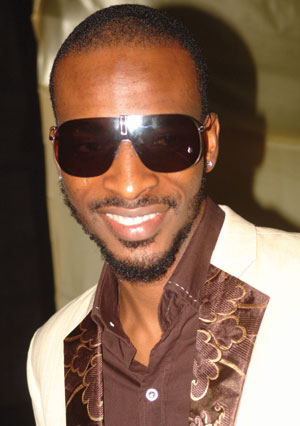 Nigerian Afro Hip Hop singer, Abolore '9ice' Akande, has reacted in a new song to the jibes being thrown at him by award-winning rap star, Michael Ugochukwu Stephens, otherwise known as Ruggeman.
The hitherto rosy relationship between the two musicians hit the rocks following the release of the controversial song titled Once Beaten, Twice Shy in 9ice's current album Tradition.
In the song, 9ice claimed in one of his lines that he saw his girl having an affair with a close friend of his. And since the release of the controversial song, particularly at a time when 9ice walked out of his marriage to Toni Payne, people have been pointing fingers at Ruggedman as the man in the middle of the crisis.
Though Ruggeman has debunked the rumour, his moves to vindicate himself from the saga seems not to be enough as 9ice refused to publicly clear the air on the matter.
The Baraje crooner stressed that in a bid to protect his integrity, he has advised 9ice several times to issue a press statement that will reveal the truth about the whole issue, but instead, the Ogbomoso, Oyo State born-singer decided to remain silent.
However, in an interview he granted a soft-sell magazine recently, Ruggeman stated that he won't forgive 9ice, until he apologises to him publicly.
"Well, I can't reconcile with him when he does the wrong thing. I can only reconcile if he comes and apologise, but if he doesn't, I can't. In fact, I heard that he is releasing an album on my birthday, 20 September and I feel honoured."
Sources close to 9ice disclosed to P.M NEWS that in one of the tracks in 9ice's forthcoming album, he took Ruggedman to the cleaners, and that is why he decided to make it a 'birthday gift' for him.
Meanwhile, when our reporter called 9ice at about 12:03 p.m. yesterday, it was his manager, Dehinde a.k.a. Mode F that picked the call and he claimed that 9ice is too busy to be reacting to such jibes.
According to him, "see Bayo, 9ice is very busy at the moment. He has been doing a lot of shows and is also working on many projects, so there is no time to react to such thing. I have not read the Ruggedman story anyway because we hardly have time to read papers."
In a recent interview, ID Cabassa, the producer of the controversial song, claimed that 9ice had recorded the song even before the hiccup in his relationship with Payne.
He said that during the recording of Once Beaten, Twice Shy, it was even Payne that prepared the food they ate.
—Bayo Adetu
Load more