David L. Wolper, whose landmark 1977 miniseries "Roots" engrossed the nation with its saga of an American family descended from an African slave, has died. He was 82.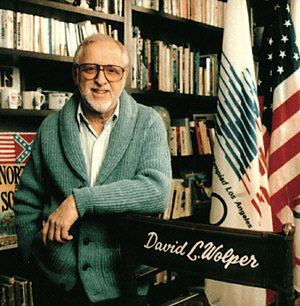 Wolper died peacefully in his Beverly Hills home Tuesday evening while watching television with his wife Gloria, said spokesman Dale Olson. Wolper died of congestive heart disease and complications of Parkinson's disease, Olson said.
He was a consummate salesman and advocate for filmmakers, said Mel Stuart, a veteran feature director and documentarian who worked with Wolper for two decades.
"There was an excitement. Anything was possible because Dave could enable it. He was a dreamer who could make dreams come true," said Stuart, who directed "The Making of the President" documentaries and "Willy Wonka," among other Wolper-produced films.
Wolper helped establish a new "school" of West Coast films at a time when New York-based TV networks' news divisions and filmmakers dominated the field.
"In a way, he brought the documentary to Hollywood, and he became the major force in Hollywood for making documentaries," Stuart said.
Olson, who represented Wolper for 40 years, called him "the most remarkable man I ever knew. During the documentary days, working for Wolper was like going to school and cramming for a test every week" for publicity kits on subjects ranging from exotic insects to U.S. presidents.
"He'll surely be missed," said producer-director James L. Brooks ("Broadcast News," "The Simpsons"), who landed his first job in Los Angeles with Wolper's company.
"He stood out as a colorful man," Brooks recalled, "even at a time when people were colorful."
During his lengthy career, Wolper produced the children's classic "Willy Wonka and the Chocolate Factory" and demonstrated his showman instincts with New York's 1986 extravaganza celebrating the Statue of Liberty centennial and the 1984 Olympic Games ceremonies in Los Angeles.
But his TV work remained his best-known accomplishment, particularly "Roots," based on the best seller by Alex Haley. The ABC series was seen in whole or part by 130 million people — more than half the country — when it ran for eight nights in 1977.
"I make it happen," Wolper said in a 1999 Associated Press interview. "Who bought Alex Haley's book 'Roots' for TV? Me. I hired the director, hired the writer. I put them all together. I'm like the chef. If I mix all the ingredients right, it's going to taste terrific. If I don't, it's not going to come out good."
The miniseries chronicling Kunta Kinte, enslaved as a teenager in 18th-century West Africa to be sold in America, and his descendants represented a different kind of family story, one told from the black perspective. It was based on Haley's novel, a Pulitzer Prize-winner that mixed accounts of his own ancestors with fiction.
Among the large cast were John Amos, Ben Vereen, Leslie Uggams, Cicely Tyson, Olivia Cole, Madge Sinclair and Richard Roundtree. Newcomer LeVar Burton, who played Kinte as a youth, became an instant star. The series won a slew of honors including nine Emmy Awards and a Peabody Award.
In 2002, Wolper produced a 25th-anniversary special on the impact of "Roots," which aired on NBC after ABC turned down the idea.
"I think it was an important milestone in the history of television," then NBC Entertainment President Jeff Zucker said at the time. "It introduced the miniseries. It showed what you could do if you had the courage of your convictions to put something on like that."
Wolper also produced several other miniseries, including the 1979 sequel "Roots: The Next Generations," "The Thorn Birds" and "North and South."
A New York City native who was born Jan. 11, 1928, Wolper studied at Drake University in Des Moines, Iowa, and the University of Southern California, where he was business manager of the humor magazine, Wampus, edited by future Pulitzer Prize-winning columnist Art Buchwald.
After leaving school in 1949, he joined with friends to create Flamingo Films, a TV distribution company, Olson said. Wolper traveled cross-country to sell old films to the few dozen TV stations then on the air.
His move into production was a splashy one. He obtained Soviet space footage for a documentary that was carried by 100-plus stations after networks refused to air an independent production. "The Race for Space" earned a 1960 Academy Award nomination.
Before becoming a titan in the miniseries genre, Wolper had a series of highly successful TV documentaries, including "The Making of the President 1960." Time magazine crowned him "Mr. Documentary," Olson said.
At the 1964 Emmy Awards, "The Making of the President 1960" received four trophies including program of the year, which was then the top award. "What a moment for me," Wolper said.
He also produced the National Geographic special "The World of Jacques-Yves Cousteau," which opened up the ocean depths for television viewers. He recalled Cousteau as "exactly as he appeared to be on the screen, a brave man who believed, passionately, in what he was doing and loved the oceans of the Earth."
Load more