He shot into the limelight with the Ambassador Segun Olusola-produced Village Headmaster as Ife Araba, the no nonsense headmaster of the village school in Oja. He is Femi Robinson, who will be 70 on 27 September, 2010. He spoke with P.M.Entertainment at his Iju, Ishaga home on Village Headmaster, film production, the Nigerian home video, his new project, Ajantala and other issues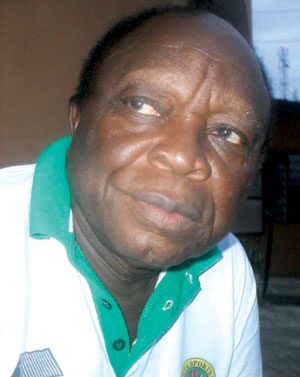 Sir, what are you doing now?
Well, at 70, because I will be 70 on 27 September, I am trying to give back to the society especially in Lagos and Ogun states.
Like what?
I want to make a statement that Theatre Art business is still relevant and that it is something people can make a living from.
You shot into the limelight with the 13-week episode The Village Headmaster, where you as Mr. Ife Araba, the headmaster and later went to do other things…?
No, I did not step out after Village Headmaster, but looked at things that have to be current, because I believe that Village Headmaster was relevant to what was happening in Nigeria then, but right now, it is no longer current to the present day society because when people start asking why we didn't bring back the Village Headmaster, I keep asking them why, because they don't expect somebody like me to start acting the role of a headmaster, because if then I was a headmaster, now I ought to have been a retired headmaster which is what it should be. And one thing I keep telling people often is that drama must have a date.
What kind of date?
That is, drama has time because if we keep on doing things that we have been doing in the olden days, drama won't have relevance.
What did you gain or lose during the Village Headmaster days?
We did not lose anything when Village Headmaster was on. The stories we were telling were those about things that were happening then. When the Village Headmaster was rested, I think what we should be doing then was to start something that is relevant to the society we are in now. That is why I am of the opinion that the young ones should write their own stories and not think in terms of what we did. For example, the late Oba Funso Adeolu (Eleyinmi), myself and others have passed our time, but those of us who are alive still have some contributions that we can make by seeing how these little children in the society can improve and know whether they are doing well. Should we give it all to the young ones? That is what I am doing now. I want to give back to this country what I learnt and what was my own upbringing in the theatre was, the young ones should know because as at present, people are not giving them the correct idea of what theatre is all about. Theatre is life, it tells you about what life is. Theatre is a living thing. We should be telling the story of what is happening now if you want to tell the history of what is happening.
Will you then say that Eleyinmi and Councilor Balogun that later became monarchs gained from the then Village Headmaster?
Oh yes, because after the Village Headmaster, becoming oba was what interested them but back then, if you called them to become oba, they won't answer you. Apart from that, the orientation helped them to have a peaceful reign as monarchs until they passed on. If not that they were disciplined and mature, they would have behaved otherwise. The young ones now, because they lack that kind of orientation, misbehave and that is why you have an oba who is attacked in the pubic. If that oba knew before that there are certain things an oba should not do and he believed in it, that would not have happened because he felt he had power and nobody could question him.
So, the Oja story helped Eleyinmi and and his colleague?
Yes, because they were writing and acting what a good oba should do because then, they were writing and acting what the Oloja, the oba in The Village Headmaster should do and that was their reference point, because they united their community. We were writing about the unity of Nigeria through The Village Headmaster then.
Did you have problems with the then military government due to the satire form of The Village Headmaster?
There is no writer that won't have problem with the government, because they will never want you to open the cankerworms in their administration, but the methond to be used now lies in you as the writer.
Have you been arrested or detained because of your writings?
No, that is what we are saying about professionalism. You don't have to do that. If I want to be arrested, I will write a play that will be direct and that person will know and come after me. But if I don't want to be direct, I will write a play that the person concerned will know, the general public will know too, but he cannot arrest me.
Why is it that we don't see soaps like The Village Headmaster anymore?
That is what I am talking about. There is no story you can tell about The Village Headmaster that will interest the young ones now, except they tell their own story. So, why don't you teach them how to tell their own story?
What was remuneration like then?
Nice, but it was not the kind of thing people ask for now in the theatre industry, because nowadays, those in the business are killing the industry and are turning themselves to beggars.
If you want to do a production now and you are asking for millions, who will give you that? If you want to do a play now, people you asked to go and look for a sponsor and in the process, the person will ask you to see the public relations manager or any other relevant person. In the process, you start begging. You don't know what money is. It turns the person sponsoring the project into executive producer and the executive producer can tell you what to do.
Apart from The Village Headmaster, you went on to do some television productions like Shoppers Guide, Welcome Aboard and other things. What has happened to all that now?
I am still doing all those things. What I believe in life is that you find it difficult to reach out to the general public depends on the public at that particular period. At the moment, I want to take theatre back, I mean theatre activities, back to the theatre, especially to the National Theatre, so that people will start to enjoy what is theatre. That is what is uppermost in my mind.
What process are you using now?
I am talking with the management of the National Theatre, because it is a place everybody has to develop his or her potential. In other parts of the world, that is the base of all artistes. That is how they find themselves in Hollywood. For example, if I am staging a play, I will not call the so-called stars among other people because such person will not be able to do what I ask him or her to do because of distraction from the audience, but if I use upcoming stars, it will give the production a meaning among all things.
Is that why you do not participate in Nollywood?
No, I want to, but I will not act with them because the stories they are telling are not Nigerian stories. It is only a few of them like Tunde Kelani that tells Nigerian stories. Most of the stories they tell are the stories told abroad in different forms.
Do you even watch the films they produce?
Do you know who started producing home video in Nigeria?
I learnt it was Keneth Nnebue?
That is a lie. I started producing home video. I took the late Aromire to location. In fact, when we were doing The Village Headmaster, I was the first person that paid for a location. At that time, I did not even have a camera. It was when I started Show Of The Century that I had a camera. Do you even know that I was the first person to shoot a video for Chris Okotie? I did the I Need Someone song on video before putting him on television and many others. When you ask why I am not acting with them, I will answer as simple as possible that I am a professional. If you are an actor, good one for that matter, you don't collect a script and act like that. First ask the question is what I want to do help my country and favour me or what?
Like what?
Like asking me to come and do a robbery scene in Nigeria which was adopted from a foreign film and you start introducing to the Nigerians how you put a gun in somebody's mouth and shoot. When I was young, I never knew that you could point a gun at someone's head and shoot if he resisted.
Are you sure you are the first person to produce a home video and not Nnebue?
Let him come and face me and say it. I was the first to produce film for home video and  Cooler Film was the first to put Nigerian film on cassette. The person was in Iwaya area of Lagos then and that is why a lot of them tell a lot of lies. That is how one person who once worked with me when I was doing Bazooka magazine went on to tell lies that I implicated him when he started another comic magazine, a person I trained and I stopped from putting pornographic materials in my magazine. That is story for another day.
But some of your colleagues joined the home video?
I will not join them, that is the difference between Femi Robinson and others. I am principled because I will not do what will not benefit me, my children and Nigeria as a whole. I will not do it.
Are you rich?
I am contented. At 70, I want to show them how things should be done and that is the legacy I want to leave. I want to show them how theatre runs. I want to put back shows of the century in another form. It will be a 50:50 family quiz which will be a family affairs seconded at the theatre and all the questions will be relevant to Nigeria from Independence to date and it will be on all major television stations.
How soon are we expecting it?
Very soon, because right now, we are talking to major companies.
I learnt you are doing a stage play, what is the form?
It is a stage play that will be made into film soon. The title is Ajantala. It is a story of Nigeria, a satire which started in Lagos when the first bomb landed at Casino Cinema area, which scattered everybody. It is a satire about somebody who has come as a messiah to do what has not been done right. The audition for the stage show begins tomorrow, Saturday, 14 August, while the show will be staged first in Lagos.
Load more