On Saturday, contemporary highlife artiste, Lagbaja rocked the house at Ultima Studios where Project Fame was produced. The masked one performed his hit songs Nothing For You and Skentele Skontolo.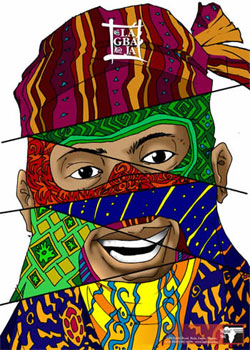 The highly innovative musician did his thing on stage after the remaining 14 contestants performed some of his popular numbers and other songs by different artistes within the same genre. Apart from performing on stage, Lagbaja was a celebrity judge who appraised and criticised the performances of the contestants.
Most of the contestants did a good job in their performances and could be easily seen that Lagbaja was a source of influence to many of the contestants. One of the contestants, Shehu, even dressed like him in his usual attire.
After the contestants performed their songs, Lagbaja picked up his saxophone and performed much to the delight of the audience.
He stormed the music scene in 1993 with his self-titled debut album Lagbaja. Following the success of the album, he has gone on to release seven others with each being a step forward from the last work. And with a career spanning 17 years, Lagbaja has won several awards both local and international and has remained relevant.
It is because of his contribution to the growth of music in Nigeria that the producers of Project Fame decided to allow contestants perform his songs and also make him a guest judge.
Lagbaja is not the first artiste to get this honour this season as Asa and Samini have also graced this year's Project Fame with their presence. One can only guess which celebrity will make an appearance next week.
Load more