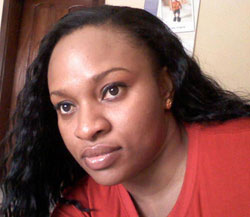 Being a gay is actually a brain disorder and that is why some people link it to God. Most of these people who are not in it for money really need help-Anonymous
Hi Amara,
I have been your fan since last year; I don't miss your column. What is the name of the ex-president and the telecoms guru you mentioned as gays?Chike
Hello Chike,
I just know they exist, but I wouldn't want to call names for security reasons.
Hello Amara,
So many things are missing on your write up about gay. I see you dislike that a lot, but don't condemn them. I have been battling with this since I was a teen. I am now 26
-Chris
Dear Chris,
Whatever goes against nature is against God. Homosexuality means no to children. Are we then to embrace this shameful practice and end the process of procreation? Please get a good counsellor or your pastor to help you out of this.
Dear Amara,
Homosexuality is becoming more attractive today in our society, not so much for its pleasure as it is a satanic way of making easy money and revitalising the demonic powers behind the money. Everything you said in men and homosexuality is true to the core. Thank you for such an insightful piece-Kola
Hello Lady,
Thanks for your information on homosexuality and the Nigerian men. As you may not know me, I am a Nigerian running an online emailzine via email with over 3000 young gay males and females from both rich and poor homes mostly from Nigeria. I read your page and you wrote so well. But for unexpected circumstances, you manoeuvred it out of ignorance without the knowledge of God. Your attack is mainly on deception. My regards-Dian, Lagos.
Amara,
I appreciate you so much for your topic on homosexuality. It is a taboo in our culture, but today, especially in Alaba market, they do it for rituals using young boys and their destinies. I will keep supporting you to fight corruption and crime. I always educate so many youths through your column. God bless you-Chief Ozioma
Hi Sister Amara,
Can you help me out of this life of homosexuality? I will forever be grateful if you do as I don't know how to come out of it-Obinna
Dear Obinna,
I am happy you, unlike others, have seen the futility of this kind of relationship and have taken a very bold step to come out of it. Please send me a mail to my inbox, let's start from there. I am very sure you can overcome it.
Dear Amara,
Are you surprised to see men now go for fellow men? Read Matthew 24, Nigeria is now Sodom and Gomorrah-Pastor Akindele
Hello Amara,
Today's topic was well researched with depth, well done. I confirm one of our ex-presidents a prominent member of this satanic club. Way back in 1974, my refusal to play ball with my housemaster nearly cost me promotion to the next class. Whilst at Ife in the early 80s, a very prominent member pressurized me so much and even offered me a brand new Passat, I stood my ground. The tell tale sign in those days was wearing of a ring on your smallest finger. I consider it all madness of the mind and greed. Why a man would prefer another man when beautiful and well structured girls litter our streets and campuses-Wale
Dear Amara,
You have not written enough on this topic. I can tell you with every assurance that many fathers are into this with their children. My own father led me into this and today I hate him with so much passion, though I can't even help myself out of this-Ebie
Hi Amara,
I always commend you for all your articles, but I was surprised after reading your article on homosexuality. I believe, with the nature of your column, that you are a well educated writer, but I was disappointed. How is it that you know nothing about genetics and hormonal compositions?-Anonymous
Dear Reader,
We shouldn't let civilization mislead us. This is one practice against nature, Africa, and humanity in general. Please change your ways if you are one of such people.
Hi,
I am a woman like you, but I don't like the way you wrote against homosexuality-Lily
Dear Lily,
It is really a pity that a woman who should be discouraging this and help to put people on the right track is in full support of it. May God have mercy on this country because the moment women, created by God to help put things right begin to go the wrong way, we are doomed. How would you feel waking up someday to find your son in this act?
My Dear Amara,
One word I will use for those who practise homosexuality is "madness" for which God will judge them sooner or later-Mrs Anthony.
MEN AND THEIR FEMALE STAFF
Hi Ama,
Great piece on female staff.Really.those girls should be kept at a distance and I just hope we listen. Such women can do anything to get what they want. Well done dear-Anonymous
Hello Amara,
So many businesses are collapsing while some have closed down because of office romance. Men should learn to desist from having any form of romantic attachment with their female workers. It kills businesses. But we can't also rule the fact that some of these ladies end up becoming lovely wives and good business associates.
ACTIVISTS AND NGOs
Dear Amara,
Thank you for the article on our so-called activists and NGOs.Please you have to write more on it-Anonymous
Hi Lady,
I just read your article on activists. You have said it all. May the good Lord protect you and guide you in our deceptive society. May your ink never run dry. This is my first time of reading your column and I can tell you I am now your fan.Amara, please keep up the good work-David
Amara,
From this week's articles, all I can say is that this country is really upside down! Only God can help us. But people should realize there is a day of reckoning; things will not continue this way forever. God bless you and yours-Mrs. Anthony
Dear Amara,
Criticism is good when it is balanced. You spared no one even your fellow journalists and activists. Fear not, God is with you, as some are busy criticising you and wishing you evil, many will be praying for you-Emma Ezeani
Hi Amara,
Thumbs up for yet another masterpiece on activists and NGOs.I totally agree with you on all you have said. A lot of them are pretenders and are richer than the criticized materially because they make money through noise making using their ignorant followers. But you forgot the late Beko Ransome Kuti, Fela, and Tai Solarin as the other true activists. Have a great weekend-Wale Okubule
RAISING HEALTHY CHILDREN
Dear Amara,
My own problem is with my daughter.Yes, I wronged her but I have tried to apologise and she pretends to have forgiven me when it is obvious she hasn't. I engaged in a rough play with her some years back. One day she came back from school and damaged my door.
This made me beat her. Then she went to the church and reported me to the pastor, telling him I deflowered her. My position was taken away from me. Since then, I have not been happy with her. Please call her and talk to her. Her number is……….. I am a single parent-Okumay
Dear Okumay,
Nobody is infallible. We all fall at different times in our lives. But the issue is for us to be able to get up, look at where we felt and what made us fall.Yes, you committed such a great atrocity, your own daughter? God is a merciful God. But you have no reason being angry with your daughter when she misbehaves because you started it. Hear the truth; that girl will never love you the way she should.Yes, she will try to, but the situation is beyond her. God has forgiven you if indeed you have repented, but you have to learn to live with your choice. I will call her and meet with her, but….anyway, let's believe God.
Hello Amara,
I just read your article;"raising children the healthy way". It was carefully thought out and loaded. I wish every parent reads this. You are a big blessing-Kunle
Amara,
You are indeed a wonderful writer. Your column makes me buy P.M.News every Tuesday and Friday. At times, I just remove your column. In fact; your wisdom is from God Almighty. This one on children will surely teach families great lessons. May God continually bless you-Clement
SIBLINGS IN MARRIAGE
Amara,
I really enjoyed the column tagged "siblings in marriage". This is the case in so many homes and I have once been a victim of it. May God continue to give you the wisdom to enlighten our men.What do you think we can do to stop this? Rebby
Hi Amara,
I read your article on siblings in marriage, you are right. I hardly eat my sister-in-law's food because she doesn't know how to cook. I am not complaining because I don't have the right to since her husband (my brother) is not complaining. Secondly, my uncle wants to give out her 17-year old daughter in marriage to a much older man. Please help me as I am not happy with this and I don't know how to stop it-UC
Dear UC,
Why not call your uncle and kick against it? I can confidently tell you that early marriage is not the best for any woman. She needs to be allowed to grow and get matured in her world before that. You can also talk to the girl to make her withstand that because she will end up in regrets. A man enjoys his life with different kinds of women only to go to the village to pick an innocent girl whenever he is ready for marriage. I don't know the age difference, but this is wrong. A girl should be allowed to make her own choice when it comes to marriage.
Dear Amara,
One day, as I was discussing with some of my cousins, I told them that the day my pregnant wife puts to bed, I will stop business for some days to assist in taking care of the baby. They instantly kicked against it, telling me I will beg for food if I try that. But I don't care, that is my decision-Emma
Dear Emma,
You are a good man. Please don't let anyone mislead you. Go on loving your wife.
Guys, please don't feel bad if your own comment is not here. I replied some through sms and email. Keep sending them, I really appreciate you.
Load more