The Deputy Governor of Lagos State, Princess Sarah Adebisi  Sosan, today received the Ministers of Education with a pledge of better collaboration between Lagos State and the Federal government in area of education.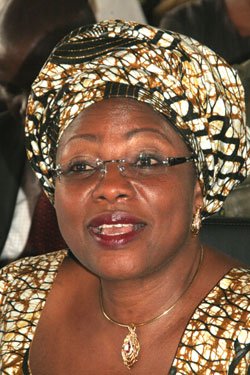 The Ministers were in Lagos State to flag off the distribution of educational materials,  especially Science Kits to Junior Secondary Schools as part of efforts to encourage the study of Science in the schools .
Sosan stated that though there had been areas of disagreement between the two governments in the past, but expressed optimism that the visit by the ministers to Lagos State government would foster better understanding thus improving education in the state.
She stressed the need for the Federal Government to agree with the state governments on their areas of need in the implementation of the Universal Basic Education.
She stated the commitment of the Lagos State government  to quality education, explaining that the general overhauling  of the sector as demonstrated in  massive infrastructure renewal, training and provisions of equipment to aid teaching were all geared towards this objective.
"Our commitment is to get all children registered in schools and this we are doing using various strategies,'' Sosan said.
She commended the Federal Government for assisting Lagos State to access the World Bank loan for the implementation of the Lagos Eko Education Project launched early this year.
The Deputy Governor also commended the Minister of Education, Prof. Rukayat Rufai and other members of her entourage for flagging off the distribution of educational materials in the State, describing the gesture as a step in the right direction in view of the large population of those requiring quality education in the state..
Briefing the Deputy Governor earlier, the Minister commended the giant strides recorded in the area of education in Lagos state, pointing out that Lagos State is  now being used as model in the education sector.
She explained that they were in the state to flag of the supply of educational materials under the UBE to enhance teaching and learning.
She also agreed that concerted efforts must be made by both the Federal and State governments to achieve the target of education for all.
The Minister disclosed that agreement had now been reached by the Federal and State Governments on the modality for the distribution of the outstanding N37 billion funds for SUBEB.
According to her, a total of 640,000 classrooms are in deficit across the country, but that the funds, once accessed, could be used to complete the projects.
The Minister was accompanied on the visit by the Minister of State for Education, Olorogun Keneth Gbagi, Executive Secretary of UBEC, Dr. Modibbo, as well as several top government functionaries from the Federal Ministry of Education,  including its Permanent Secretary.
Load more