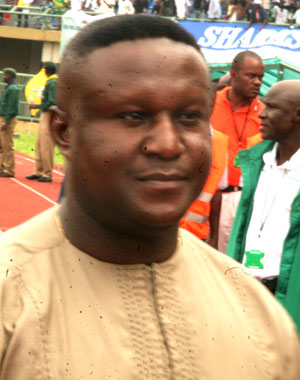 The all powerful Enyimba Football Club of Aba were on Sunday defeated by Kaduna United Football club of Kaduna at the Sani Abacha Stadium through a 3-2 penalty shoot out, at the final of the 2010 Federation Cup.
The Kaduna United boys lifted this year's Federation cup in a tension-soaked encounter which ran into penalty shoot-out after a 3-3 draw during the regulation time.
The match which ended at 7-5 goal aggregate commenced at about 4:04 p.m.
Though it was a thrilling encounter, calls by the centre  referee from Ondo state, Ogunyanmo Henry, were most a times, challenged by both teams' players.
At the 29th minute, Bola Bello of Kaduna United scored the first goal through a penalty shoot out, while Femi Balogun made it two goals for Kaduna United at the 34th minute.
The two-goals winning, however, did not dampen the spirit of the dogged Enyimba boys who remained resolute as Magnus Iwuoha raised their hope at the 36th minute when he entered a penalty awarded to his side.
Four minutes after Enyimba's first goal, Bola Bello hit a second blow at against the Aba team at the 40th minute, shoring up Kaduna United goals to 3. In the 43rd minute, Val Nwabili got a second goal for Enyimba, while Atanda Sakibu wiped tears from the league champion when he scored the third goal for Enyimba at the 50th minute. Atanda was later substituted after he sustained an injury.
The spacious stadium was almost empty as the match recorded poor turnout of spectators. Security was, however, very tight.
Dramatically, the Sani Abacha Stadium was almost turned into a campaign rally as poster of aspirants in the of the forthcoming Nigeria Football Federation, NFF, were seen pasted and littered conspicuously at the nooks and cranny of the stadium.
Supporters of different aspirants were also heard convincing people on why their preferred candidates should be voted to man the NFF.
Meanwhile, the Sun Shine Foot ball club of Akure lost their battle to get the third place in the tournament as the Rangers International Football club of Enugu trashed them 2-1 at the same stadium earlier in the day.
By Maduabuchi Nmeribeh/Kano
Load more