There are strong indications that Samson Siasia may take over the coaching job of Nigeria's Super Eagles before the end of this week.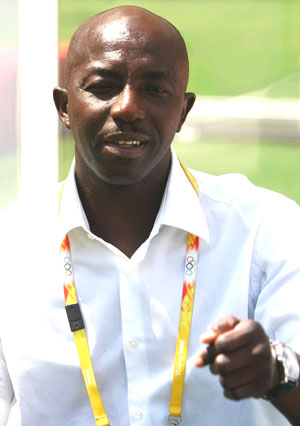 The former coach of the silver medal winning U-23 Eagles at the Beijing 2008 Olympics, whose Heartland's team lost 0-1 to Ismaily of Egypt in the CAF Champions League match played in Cairo last night is scheduled to hold another round of negotiations with Nigeria Football Federation, NFF tomorrow in Abuja.  His lawyer, Ijere Austin hopes a deal will be struck at the meeting.
Acting Chairman of NFF Technical Committee, Dominic Iorfa, corroborated Austin's statement, saying the FA is waiting for the former Nigerian international to return from his continental duty in Cairo for the NFF officials to conclude the ongoing contract negotiation with him.
"Once Siasia is back we'll indeed enter into another round of negotiation with him to finalise the deal. The board of the NFF will meet on Wednesday to ratify whatever agreement we reach with him. But there are other coaches who would be interviewed to ensure that we do things with due process," Iorfa said.
Lawyer Austin, however, disclosed that Siasia is ready to satisfy the yearning of soccer loving Nigerians to shift ground in taking a reasonable deal the NFF will give him. He told MTNFootball.com that "Siasia is desperate to satisfy the yearnings of Nigerians who love him so much and have been clamouring for him to get the job. So, he is ready to finalise discussions with the leadership of the NFF on Tuesday (tomorrow).
"We have discussed and he has agreed to lower his demands. This we hope to convince the NFF when we meet again. Although I won't be able to give you details now until we finish our discussions.
"We also believe this contract will be improved on after he has impressed on the job."
Indications are that Siasia will now settle for a monthly salary of N5m and a signing-on fee of N50m. The lawyer also defended the $1m sign-on fee and $100,000 a month salary Siasia demanded for during contract talks with the NFF board last week in Abuja, arguing that it is from this amount that he will pay his backroom staff.
Siasia himself said: "I'm set for the job and hope that our final discussion is fruitful. I see this as a chance to serve my nation and I'm going to give it my best.
"The Eagles need an urgent attention immediately, the players must change their attitude and put Nigeria first whenever they are invited for national duties."
Load more