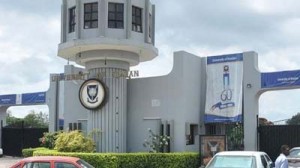 Muslim students of the University of Ibadan, UI, this morning paralysed activities during a protest against the institution's refusal to expel a part four law student, Miss Seun Olubunmi Adegunsoye who preached gospel in the school mosque last Friday.
Adegunsoye of Mountain of Fire and Miracle Church, according to reports, preached at the mosque last Friday to the Muslim faithful.
While she was preaching, the Muslim students mobilised themselves, attacked the lady and beat her mercilessly.
The school's security men rescued her and took her away for questioning.
Sources saidhe institution's Vice Chancellor, Professor Olufemi Bamiro, appealed to the Muslim students not to foment any trouble, promising that the issue would appropriately investigated.
However, the Muslim students went haywire when they found out that the institution's bulletin which was released this morning did not report the incident and the punishment the school authority has meted out to the preacher.
The students who barricaded all the entrances leading to the premier university and carried placards prevented both academic and non-academic staff from gaining access into the school this morning.
Among the inscriptions written on their placard were: "No to terrorism. No religion should be allowed to terrorize us in our country"; "We will not take any unreligious act from any religious group"; "We will do everything possible to protect our religion"; "We will not accept insult from any religion"; "Olubunmi should be expelled from UI because she has done what is wrong"; "Olubunmi should be arraigned before a court of law for preaching in the mosque".
According to a leaflet signed by a student called Almin, they demanded that Adegunsoye be expelled from the school and charged to court.
Other demands include: Investigating religious leaders behind the lady, carry out medical examination on the lady to find out whether she is mentally sound, ban Christians from preaching in public places in the school, and punish anyone who facilitated her release from the school security net.
Official reaction from the institution could not be sought as at the time of filing this report but it was gathered that the VC would address the press later in the day.
The school's PRO, Mrs. Joke Akinpelu who was on leave, rushed down to see what was happening but  she was also prevented from entering the school.
Her words, "I can't say anything now because I am on leave but I have called the VC who will later address the press. As you can see, I can't even enter but I will see if I can jump the fence to enter the premises and see how we can bring the situation under control."
—Gbenro Adesina/Ibadan
Load more