A cholera outbreak in Nigeria has killed 87 people during the past month while 1,315 others have been infected, official figures showed Monday.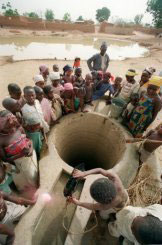 The outbreak in the northern states of Bauchi and Borno was believed to be because of poor sanitation and the contamination of wells, while Nigeria's rainy season often sees a surge in cholera cases.
Bauchi State has recored 47 deaths and 1,200 infections in the past month, state health commissioner Mohammed Yahaya Jalem told AFP by telephone from the state capital.
Borno State health commissioner Abdurrahman Terab told AFP on Thursday that 40 people had died from cholera in the state within the previous week while 115 others were infected.
Jalem attributed the outbreak to poor sanitation and the contamination of open wells on which rural communities largely depend as major water source.
"We have mobilised health personnel and drugs in the affected areas and we have stepped up… campaigns on how people can guard against cholera and other water-related infections especially in the rainy season," he said.
Cholera is a water-borne disease and can also be transmitted by food that has been in contact with sewage. It causes serious diarrhoea and vomiting leading to dehydration.
Health experts say a surge in cholera outbreaks is noticeable in Nigerian villages in the rainy season when rain water washes dirt into open wells and ponds.
More than 260 people died of cholera in four northern states in the last quarter of 2009.
Load more