With many investors now going into the fast food business, the hygiene in the sector seem to be dropping drastically. Aside good food prepared under the best hygienic condition, a clean environment and well trained staff, one of the basic things that a fast food outlet should boast of is a good toilet. Consumers Advocate recently visited some fast food outlets across Lagos and discovered that most of their toilets were an eye sore.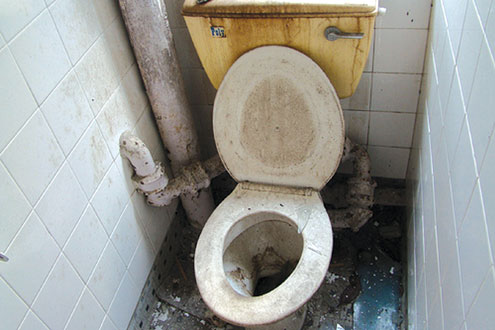 In one outlet of a first generation fast  food company located at Ogba, the bad odour oozing out from the restroom could only be compared to what obtains at a refuse dump. The fast food building is wonderfully designed on the outside. The seats inside and the airconditioning system is also wonderful. The outlet seems to also have large patronage as very huge crownd of fast food lovers was noticed when Consumers Advocate visited. One will think that a fast food joint with such a crowd will know the essence of having clean rest rooms and in abundance too but they obviously do not know or do not care.
In another outlet visited at Ikeja, there was obviously no consideration for female and male customers as there was just one single rest room for every customer.  It is bad enough that there is only one rest room, it is worse that the place is never well kept. Some customers who spoke to Consumers Advocate said that several complaints have been made to the manager but he never seems to care. Consumers Advocate tried to speak to him but was told he was busy.
This ugly situation is not only limited to Ogba and Ikeja but also the same most parts of Lagos. It's either the air freshener makes you want to throw up, the tap is broken or the WC just won't flush. Many times, they leave all sorts of peoples' crap in the toilet and it swells up. It is really a terrible sight for anyone. Some of them do not leave tissue papers in the place. Their attitude to having a good restroom is a nonchalant one.
These fast food companies seem not to know that anybody selling food should understand how nature works. If you provide a place where people can take in food, then a decent, well kept place where they can ease themselves is the next most sensible thing.
Public health departments of most local government areas that are supposed to monitor these companies are obviously not doing their job. A bad public toilet is an issue that borders on public health. Serious diseases can be contracted from there. NAFDAC seems also to have neglected this issue too.
Consumers  Advocate  appeals to relevant authorities to wake up from their slumber and start enforcing hygienic standards in eateries.
Load more