Nigerian police corruption has led officers to regularly detain innocent people to extort cash, with some tortured or allegedly killed in the process, a Human Rights Watch report said Tuesday.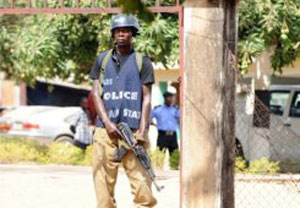 The report describes a deeply corrupt police force in Africa's most populous nation, where extortion and bribery have become institutionalised and junior officers are forced to pay up the chain of command to their superiors.
It documents cases where those arrested have allegedly been killed after failing to pay, and details a perverse system where crime victims can be turned into suspects because the accused has more money and influence.
"Members of the force are viewed more as predators than protectors, and the Nigeria Police Force has become a symbol in Nigeria of unfettered corruption, mismanagement and abuse," the report by the New York-based body says.
It is based on interviews with more than 145 victims of or witnesses to police corruption, the US-based organisation said.
A police spokesman declined to comment when contacted by AFP, saying the force planned to issue a statement later.
The report says corruption has reached absurd levels among the force, with people being rounded up regularly and then forced to pay for their release.
Witnesses even described how police had commandeered a mini-bus, used for public transport in Nigeria, and picked up unsuspecting passengers.
They then transported them to the police station and demanded money for their release.
In another case, a father told the organisation that police tortured and threatened to kill his 16-year-old son unless he paid.
They first demanded 100,000 naira (515 euros, 665 dollars), but later agreed to reduce the amount to 50,000, he said.
"He had wounds on his back and on his body," the report quotes the father as saying. "My son told me they put a stick between his arms and legs and suspended him."
A market trader who said he was arrested also described being tortured, while a woman told the organisation she had been raped after being detained and others said they had been threatened with sexual assault.
It also describes cases of people allegedly being killed in police custody after their families could not afford the money being demanded.
The report details extortion and bribery that occurs out in the open, as well, with police roadblocks and checkpoints used to collect cash.
Human Rights Watch called on the country to launch an independent investigation into the force and hold senior officers accountable.
Load more