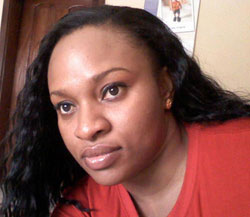 Hi Amara,


I've just read your article on lesbianism. God bless you for condemning this shameful/evil act by women. Also, know you are beautiful and a target. My prayer is that you and other beautiful women who have stayed away from this may never be ensnared
—Anonymous.
Dear Amara,
May God be with you for exposing this evil that so many of our women are into. It is a pity, I missed the one on men. Let us help those that are standing to continue to walk in integrity
—Ben.
Hi, Amara,
I read your article on women and lesbianism. Honestly, I was dazzled by all you said on homosexuality. I never knew it has gained so much popularity that so many Nigerians are now involved in it. If at this moment it is legalised, you will be shocked by the number of people you will find among them. Well, people are secretly engaging themselves in same sex relationship. Although I can see you are not into lesbianism, I was wondering if you could link me up with some of your sophisticated and wealthy gay friends. I am sorry if you find this totally offensive, I need a companion
—Wale.
Dear Wale,
All I can say is this; may God have mercy on you. I think you need some psychological help. But if you insist on getting into a same sex relationship and you need someone to help you into it, please look elsewhere because I am not available.
Amara,
Thumbs up for you again. You are wonderful. Thank you for exposing this cankerworm that is fast ravaging our society. This is a negative spirit that wants to stand against the plan of God. Please keep the fire burning because God is using you to expose these things. Make people aware of their operations and bring deliverance to those under their bondage
—Comrade Onwuaso.
Dear Amara,
This is a wonderful write up. I think government should do something about it. But what do we expect when we have so many of the female senators and some presidents' wives practising this same lesbianism?—Anonymous.
Hello Amara,
How do we know lesbians when we see them? Please reply me because I am afraid by what I have just read
—Joy.
Hi Amara,
Lesbianism has taken over in all sectors of life. It is being practiced in our churches by pastors' wives, our legislators and senators, even governors and presidents' wives are all involved. I recently went for a final interview with a much respected oil and gas firm here in Lagos. When I found out I was going to face a fellow woman, I was happy because I immediately concluded that I was going to be employed based on merit and not by being invited to a hotel room. On getting into the office, the woman wasn't even ready to ask any questions. All she told me was that I shouldn't bother because the job is already mine. I thanked God that my fasting and nights of endless prayers for such a top job wasn't in vain. But before I could say Jack Robinson, this lady got up and held my hand. As I stood up before her, she kissed my lips and by the time I knew what was happening, I was on the sofa in her office with her mouth on my nipples. Amara, this relationship continued for three years with a lot of guilt whenever I set my eyes on my boyfriend. I had to resign as I could no longer live such a dirty life. Lesbianism is dirty and evil, but I can tell you it is such a sweet experience. Once you get into it, only God can bring you out. The worst aspect of this story is that this woman is a highly respected member of the Knight in the Church of Assumption, Falomo
—Ellen.
Raising Children The Healthy Way
Hi madam,
You have just made my day. I am now happy that I am not the only old fashioned mother. This article is fantastic. I think you need to have a forum for mothers, especially those below 55, as they are the ones guilty of all you have mentioned. I run a school and see how parents destroy their kids on a daily basis. God bless you and your household. You are indeed a mother. I would love to meet you in person
—Beatrice.
Dear Amara,
You are a wonderful woman and my kind of a mother. Keep it up, God bless you as you live to enjoy the fruit of your labour in the lives of your children
—Anonymous.
Hello Amara,
Even before reading your article, I had told my husband that my daughter, who is my only child, is not going back to her present school, a school that is not so good in academics. All they do well is bring in so many other spoilt kids, pamper them until they get destroyed. Our children travel from one country to the other, is that what education is all about? It was my pastor's wife who called and advised us to take her away from there. There are so many good and Godly schools around, but it is unfortunate parents go for names instead of academics and morals—Lizzy.
Amara,
I am just reading your yesterday's write-up; God bless you o jare, on your decision concerning your daughter. Sometimes I just wonder how old you are that you are so knowledgeable and experienced on so many issues bugging the society
—Mrs. Anthony.
Dear Mrs. Anthony,
You have been a wonderful source of inspiration to me. Thank you so much, we need mothers like you to be there for the younger ones like me. I may not be old enough to write all these, but God made me go through years of tough training and pain for such a time as this. Yes, I am young, but I have gone through series of experiences that women in their forties and fifties haven't been opportuned to go through. It is a very big priviledge from God.
Madam, Thanks for this write up. I can't wait to have my own children and bring them up the Godly way. May God continue to bless, guide and protect you and your kids. You are my mentor! Divine knowledge is yours. Thank you once again
—Agnes.
Aunty Amara,
You are the bomb! Your article on raising children shows you are a mother indeed. Please, write more articles for single ladies. God bless you
—Anonymous.
Dear Amara,
I read your write-up on raising children. It is beautiful and beneficial to both parents and would-be parents, so keep it up. I encourage you to put it in a book form. I was blessed reading it
—Mr. Ola.
Hi Amara,
I am really sorry I'm sending this text late, but I just can't wait till tomorrow. I was really touched by this write up on raising children. I am a young man, single and about to be a father in less than two months. I am really scared when it comes to raising my child because I didn't get much love when I was growing up. What I got as a child was money to make up for the love. I am scared because I may not marry the lady, but I want to be close to my child. What do I do?—Anonymous.
Dear Reader,
Thanks for appreciating my work. But I see no reason you should get involved in a relationship that will produce a child when you know you are not ready to get into marriage with the mother. I don't know what the reason is for refusing to get into marriage with the woman, but be careful in your struggle not to raise your child the way you were raised by your parents because from the look of things, you are going the same way. In a case you don't want to get married to her, please make sure the child lives with her in a comfortable place and try to be as close as you can to them.
HousekeepingGood morning, Amara,
I read your article on housekeeping and it was very educating. I don't know if you can help me with a manual or book on this topic to help me in instructing my fiancé on such domestic issues
—Kenny.
Dear Kenny,
I don't have any handbook or manual on this, but I am sure there are lots of them available in bookshops.
Dear Aunty Amara,
I am a regular reader of your column and have a problem that I want to share with you. I have been married for close to five years with no issue. The doctor said my wife is okay while I have a very low sperm count. My wife has promised to quit if I don't let her go out and get pregnant. I need your help, please advise me
—Theo (not real name).
Dear Theo,
A lot of men like you have gone through this problem of low sperm count and today, they are proud fathers of children. My own uncle waited for 27 years. Although at the end, there was no child, with the help of my family and his good friends, he made up his mind to adopt. Today, he is a father of a boy and a girl. God is God and there is nothing, absolutely nothing, beyond Him. I don't know who you have around you. You can get your wife to call me, there are solutions to low sperm count. Another lady called to let me know of her decision to allow her neighbour get her pregnant since he has promised never to claim the child. I advised her never to make that mistake because that same neighbour will be the one to destroy her joy in future.
Aunty Amara,
My wife meant the world to me, but recently, she confessed to me that she has been into extra marital affairs because she is sick in bed. She also told me that she has been visiting herbalists to see if she can have a baby after nine years of marriage. Please tell me what to do
—Anonymous.
Dear Reader,
This is a decision you have to make yourself. If you love her, you can pardon her because, even when they don't say it, a lot of childless women have gone into so many filthy things because of the societal pressure on them for a child. She also claimed to be sick in bed, please find out what she really wants from you.

Siblings In Marriage
Amara,
I have always sent you text mesages on the way my in-laws treat me. Recently, they got another woman for my husband and even before now, he wasn't bringing any money for the upkeep of our child. I have just bought a car and I want to ask whose name I should use for the registration
—Anonymous.
Dear Reader,
I am going to be very blunt in answering this question. No responsible man should be begged for money used for the upkeep of his own child. If, according to you, his people have found another wife for him, making him to turn his back on you and the child, please, don't make yourself a fool by thinking of having his name on the car you bought. You can make do with your son's name. Nevertheless, don't forget to constantly pray for him.
Dear Amara,
What do you think a man should do if his wife steals his money and even lies about it despite the fact that he never deprives her of money and gives her more than enough? He also heard it from his mother in-law that his wife had a miscarriage when he spent a holiday in a five star hotel in Dubai and the woman never mentioned pregnancy to him? —Anonymous
Dear Reader,
It is wrong for a woman to steal in her own house. I am proud to say that I never took money to my mom behind my husband. I believe a man and his wife should be one. When a woman decides to be good, it may not be that the man is good, but I am not going to judge your wife without hearing her own side of the story. You have claimed to be very caring; she may have a different reason for what she did. But whatever the reason, I don't think there is anything in this world that can make me steal from anybody. Coming to the issue of pregnancy, what is your relationship like? It won't be fair to make any comment without getting the true picture of things.
Hello, Amara,
My mother in-law told my wife that my mom is a witch, whereas my mom and my wife had been living together for the past two years without any problem until my mother in-law came. She recently called me and complained that my mother was walking into her daughter's kitchen anyhow. I told my wife to send her mother home but she never did, instead they threw my mom out of the house. Now, my wife, her mom and brother are in my house. This is happening in Delta State while I am in Lagos
—Haji.
Dear Haji,
Please, be a man and put things right in your house. Your wife should be mature enough to know what to listen to.
Dear Amarachi,
I appreciate you. I have very tiny legs and that makes me wear long skirts. My boss has been complaining about my skirts that are too long, is there any exercise I can do to make them big because I am really bothered?
—Anonymous.
Dear Reader,
However you are, you are God's masterpiece. You are not alone in this as a lot of women have the same issue. The only difference is that they have refused to let it bother them. If you want to go on wearing very long skirts, why not try the tight fitting ones that are three quarts? Sure your boss will find this sexier.
Load more