Assistant Secretary (Technical), Nigeria Football Federation, NFF, Emmanuel Ikpeme, has declared that the jumbo salary, which Samson Siasia is requesting before accepting to coach the Super Eagles is unrealistic.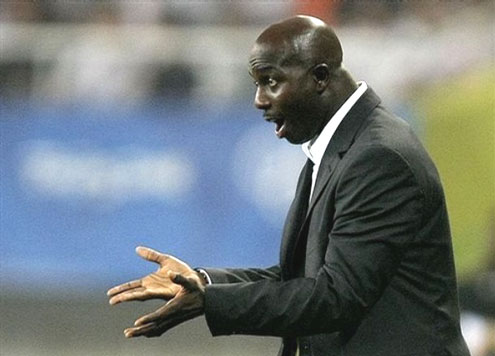 Siasia, who is currently on a rescue mission at Heartland Football Club of Owerri, has demanded the sum of $1m sign on fee, about N150m and $100,000, about N15m monthly salary before assuming duties as Eagles' Chief Coach.
The amount, being requested for by Siasia was seen as too outrageous by some soccer loving Nigerians, while many feel it's even below what Nigeria paid to previuos foreign managers of the team.
Ikpeme, while speaking on brilaf.m early today from Abuja, said the football house would have loved to pay the Beijing 2008 Olympics silver winning coach if it's bouyant enough. But the administrator regretted that the purse of the NFF cannot sustain such salary.
According to Ikpeme, giving Siasia a N15m monthly pay will eat deep into the lean purse of the federation, which is battling hard to get fund to prosecute its programme.
He said: "To me what Siasia is demnding as a national coach is good, but we have to do things according to what we believe we can conveniently pay. We'll not pay Siasia a salary that we'll turn around later to default on our promise.
It will be ridiculous, and I believe Nigerians will blame us for entering into an agreement we know we can't sustain.
"If I may recall, the salary we paid Berti Vogts ($30,000) was offset by Globacom. That of the immediate past coach of the Eagles, Lars Lagerback ($330,000 monthly) was paid by the Presidential Task Force because of the World Cup
Shuaibu Amodu, whom the FA paid by itself, did not earn what Siasia is demanding for right now. I think we should go for what we can afford to offer in order for anybody not to regret it later in the future."
Salaries Of Ex-Super Eagles' Coaches
Foreign Technical Advisers
1.Lars Lagerback: $1.8m for 5 Months
He Earned $330,000 (N50m )Monthly
2.Berti Vogts $30,000 (N4.5m) Monthly
3.Milutinovic Bora $180,000 for 6 Months
.He Earned $30,000 (N4.5m) Monthly
4.Jo Bonfrere $150,000 Sign-On Fee
.Plus $30,000 Monthly Salary
Nigerian Coaches
1.Shuaibu Amodu $15,000 (N2.3m) Monthly
2.AustinEguavoen $10,000 (N1.5m)Monthly
3.Christian Chukwu $3,300 (N500,000)Monthly
5 Best Paid National Coaches
1.Fabio Capello (England) $825,000 (N123m)Monthly
2.Marcelo LIppi (Italy) $342,000 (N51m) Monthly
3.Javier Aguirre (Mexico) $333,000N(N49m) Monthly
4.Joachim Low (Germany) $275,000 (N41m) Monthly
5.Berter van Marwijk (Holland) $225,000 (N34m) Monthly
—Taiwo  Adelu
Load more