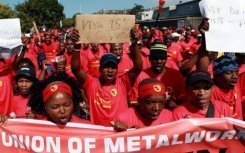 South African civil servants announced an indefinite strike Tuesday, saying they will not return to work until the government meets their demands for an 8.6 percent wage increase.
Public workers' unions said in a joint statement their members would not budge from their demands for an 8.6 percent increase — more than twice the rate of inflation — and a monthly housing allowance of 1,000 rands (138 dollars, 107 euros).
The government's latest offer is a seven percent increase and a 700-rand housing allowance.
"After a four-day consultation process members… have unanimously rejected the offer and have insisted on the 8.6 percent and 1,000-rand housing allowance," the unions said.
"Starting tomorrow (Wednesday) the strike for public service unions will continue until such time that the employer accedes to the demands of the workers."
Unions representing 1.3 million teachers, nurses and government workers are backing the strike.
The unions said members would picket at their workplaces Wednesday and stage nationwide marches on August 26.
A one-day strike on August 10 was only partially observed.
The government has insisted it cannot meet the unions' demands without trimming public services, amid fierce pressure to expand access to water and electricity.
The ruling African National Congress is looking to avoid a repeat of 2007, when hundreds of thousands of public workers staged a crippling four-week strike.
Load more