Former Military Head of State, Major General Muhammed Buhari has promised not to Islamise Nigeria if elected as president next year, saying that he was never a religious bigot as claimed in many quarters.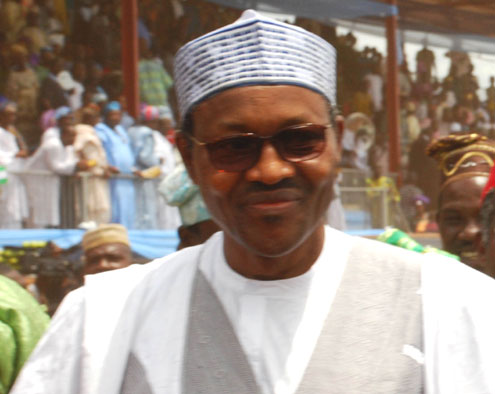 Buhari's statement contradicted what he was quoted to have uttered in 2003 when he was alleged to have called on Muslims not to vote for a Christian presidential candidate, the former president, Olusegun Obasanjo.
The former head of state, who spoke in Lagos, Nigeria, yesterday when he visited the Prelate, Methodist Church Nigeria, Dr. Ola Makinde to solicit his support for his presidential ambition next year, denied ever making any negative remarks about the Christian faith.
Buhari left the All Nigeria Peoples Party, ANPP, to form the Congress for Progressive Change, CPC, where he is currently the Chairman, Board of Trustees and the presidential candidate of the party to vie for next year's presidency.
He challenged any Nigerian with proof of him ever saying he would Islamise Nigeria to come forward with such claims, saying that Islamising Nigeria was never in his agenda as he stood solely for democracy.
According to him, he would never think of Islamising the nation since Nigeria is a secular state, urging people to throw into the dustbin those negative things credited to him by political opponents.
The fact remains that many Christians are afraid to vote for Buhari because they see him as a threat to their faith as a result of the negative utterances credited to him in the past, but since the former head of state had debunked such insinuations, it is not yet certain if Christians in the country will cast their vote for him next year.
"I have a lot of respect for religious and traditional institutions in the country and that is why I have decided to always begin my consultation with visits to religious and traditional leaders across the country.
"In 2003, I wrote to all the religious leaders in this country and during my campaign tours I visited them. As I visited the Christian leaders, so also I visited the Ulammahs and traditional rulers across the country," he said.
He added that it was erroneous for anybody to describe him as a hardliner, saying if he was, he would not be building bridges across the length and breadth of the nation.
Makinde had earlier said the nation would not accept any religious bigot to rule the nation again, due to the spate of killings of innocent people in Jos, Plateau State in the name of religion.
The prelate had said that Buhari denied statements credited to him describing him as a religious bigot in a closed door meeting before addressing the press.
"Buhari said he did not say any such thing; but I made him know that we will no longer accept any religious killing in any part of the country. We must work together. We will not condone any more religious killings and therefore, we will not vote for any religious bigot to rule this country.
"We will fight that with the last drop of our blood. I know how many people who were killed in Jos. We don't have that kind of crisis in the South. Most of the people they killed in the North were Southern Christians," he stated.
Also, Buhari was optimistic that he would defeat the incumbent President, Goodluck Jonathan in next year's election if a level playing ground was given to all the presidential candidates.
Buhari stated that if elections were free and fair, nobody would be able to stop him from becoming the president next year, because he had what it takes to move the nation forward.
He argued that the problems confronting the nation now were as a result of lack of a visionary leader to steer the nation to greater heights.
"Elections must be free and fair and this is what we have been fighting for. Let the elite go and deliver their constituencies. Let them tell their people the truth and let them choose who will represent them.
"What we need is a free and fair election. We were in court for 30 months in 2003 and in 2007, we were in court for 20 months which means between 2003 and 2007 we were in court for 50 months. We were not doing it for a joke. I believe in democracy and I believe in social justice," he said.
Buhari said the purpose of the visit was to use the period of Ramadan to start the campaign process by visiting spiritual leaders, stressing that the visit was aimed at explaining his vision for the nation and let the people know "our feelings about the problems of the country and how we intend to solve them and recreate the Nigeria of our collective dream."
Accompanying Buhari on the visit were former Speaker, House of Representatives, Aminu Masari; Director General of his presidential campaign, Alhaji Sule Hamma, Hon. Farouk Adamu, Alhaji Abba Kyari and Barrister Joy Nunuwe.
—Kazeem Ugbodaga & Eromosele Ebhomele
Load more