A 64-year-old Nigerian, Prof. Chukwudubem Okafor of Kutztown University in Pennsylvania, shot his Jamaican wife, Cheryl, before killing himself  in what U.S. Police described as a "suicide-murder".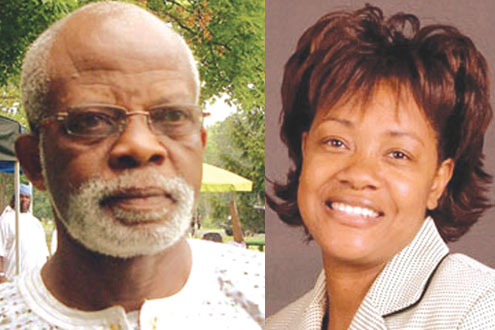 Joe Vanilla, a detective at the Berks County Coroner Office in Pennsylvania, told the News Agency of Nigeria (NAN) on telephone that investigation into the killing on Sunday had been concluded.
Okafor and 37-year-old Cheryl, who lived in Exeter Township in Berks County, Pennsylvania State, had four children.
"The investigation is closed and the manner of death of Mr Okafor was ruled as a suicide and the death of his wife a homicide, he shot her and then shot himself.
"The motive (for the killing) is that they had marital problems and this was domestic dispute," Vanilla said.
He said Okafor, distraught that his wife had left him a few days earlier, arranged to meet her at a relative's home on Pear Street in Reading, where he shot her several times before shooting himself once in the head on Sunday.
"A small-calibre handgun was found near the bodies," the police said.
Local media quoted a friend of the couple as describing them as gifted artists who donated much of their time to helping Berks County children.
"They were both very talented and they were making a tremendous contribution to the community, "Joseph Amprey, a retired Kutztown University professor, said of Chukwudubem and his wife.
The report further said that Cheryl's marriage to Okafor was the second to end in violence.
After she left her first husband, Alfred Simon Philmore, in the early 1990s, he found her in 1998 and shot her boyfriend, Osmond Dacosta Walker, to death in Reading, the report said.
According to the report, Philmore was convicted of the crime in 1999 and is in a state prison in Fayette County.
Okafor whom friends called Dubem, taught English at Kutztown and was a poet.
Kutztown University spokesman Matt Santo said Okafor had taught at the university since 1995 and was completing a sabbatical after which he was scheduled to return to teaching next month.
Santo noted that Cheryl was a painter, a photographer and a mentor to children in the Reading area.
Load more