When the relationship between Yoruba star actor, Saheed Balogun and his erstwhile wife, Fathia hit the rocks following allegations of infidelity, not many people knew that on 16 June, 2008, the actor did a secret traditional wedding with another lady known as Omoh in Ekpoma, but the union has also gone sour, NollywoodReel can reveal.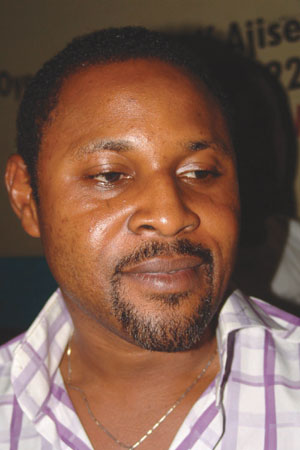 Saheed has abandoned the London based Omoh since his romance with upcoming actress, Funke Adesiyan, began recently.
Although both Saheed and Funke have denied dating, a source close to them revealed to NollywoodReel that the light-skinned actor has abandoned his wife in London, while Funke has moved some of her things to his house at 36, Abike Jokogbola Street, Solebo Estate in Ikorodu, Lagos State.
The source explained that since Saheed's romance with Funke is waxing stronger, to the extent that she has gradually moved in, Omoh was left with no choice than to move out of the house.
"She is aggrieved because Saheed was bringing Funke to their matrimonial home while she was in London. After their engagement, she relocated to Lagos, but it was Saheed that told her to go back to London and resume her work. She agreed, not knowing that he had his plans.
"It's even more painful to Omoh because she lost her first job and car while trying to help Saheed in Nigeria. Everybody knows that she was the one helping him financially. So it is unfair that he has decided to treat her this way," the source said.
NollywoodReel further gathered that Omoh decided to pack out of Saheed's house because she felt unsafe, considering how frequent Funke visited her matrimonial home.
When NollywoodReel called Saheed on phone at about 12:46 p.m. yesterday, he refused to comment on the issue.
He said: "The only thing I want to talk about now is the three movies that I'm working on. One of them is titled Sakojiya. As soon as the marketer responds to us, it will be out. Thank you."
Meanwhile, an effort to speak with Funke has remained abortive, as the lady who picked her MTN line claimed that our reporter was calling a wrong number.
Saheed's marriage to Fathia also crashed in late 2006 following allegations of infidelity.
—Bayo Adetu
Load more