The Chartered President of Lions Club, Alimosho Area of Lagos State, Nigeria and Chairman, Board of Trustees of Aluminium Profile, Glass and Accessories Retailers Association of Nigeria, APGAR, Lion Kola Sodipo, has been assassinated.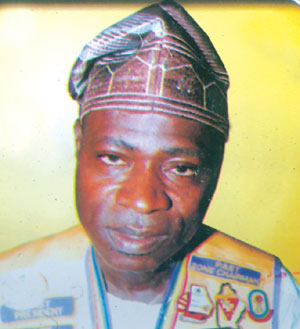 The business mogul, who was one of the major distributors of Tower Aluminium, was shot in his forehead by two unindentified  gunmen who rode on a motorbike at Akinsola Street, Dopemu, Agege, Lagos State at about 9:55 a.m. yesterday.
The importer and exporter of aluminium profile and accessories was reportedly intercepted in a commando style before he was shot dead.
P.M.NEWS gathered that the gunmen  intercepted his SIENA Space bus, shot at the driver's side and broke its windscreen and subsequently shot his driver on his arms. The driver lost control of the vehicle.
It was further gathered that the gunmen, who operated unmasked except for the rider of the bike who was wearing a helmet, made away with some documents they removed from his vehicle.
The APGAR BOT chairman was rushed to Mayfair Hospital, Dopemu, where he was confirmed dead, while his driver is receiving treatment at an undisclosed hospital.
His corpse has been deposited at the Lagos State University Teaching Hospital, LASUTH, Ikeja, Lagos.
The late president of the Dopemu Lions Club  was one of the major distributors of Tower Aluminium and owns a chain of businesses across the state.
An eyewitness told P.M.NEWS that all efforts by the business mogul to escape the assassination proved abortive as his assailants were too close on him.
"We were here in the shop at about 9:55 am when we heard a gun shot. Initially, we thought it was a tyre of a car that burst until we heard another one. All of a sudden, we just saw two men on motorbike intercepting a Siena Space bus.
"The assassin who was not wearing any mask brought out a pistol from his pocket and shot the car's windscreen from the driver's side. The driver fell down from the vehicle while it was still moving. The assassin who was in his early thirties alighted from the motorcycle and chased the moving vehicle while the motorcycle rider was waiting.
"He caught up with the car and opened it from the rear, preventing its occupier who has already brought out one of his legs from escaping. He commanded him to get down, screaming 'fuck you' before he shot him in the forehead.
"He made away with some documents from his car after killing him," she told P.M.NEWS.
She said that she was jittery and trembling when the incident happened but had to muster courage and called the DPO of Dopemu Police Station who came to remove the corpse and towed the vehicle away.
When P.M.NEWS visited Aluminium Village, opposite Tower Alumium factory, the ever busy business circuit was quiet as all shops were shut.
Traders in the area were seen discussing the sad incident.
Speaking with P.M.NEWS at Dopemu Police Station, where the incident was reported, a police source who does not want his name mentioned, said that it was not a case of armed robbery but assassination because not even a pin was taken away from his car, except the documents, despite the fact that he was coming from a bank where he had gone to make some transactions.
The police source, who was a close friend of the deceased, told P.M.NEWS that the late business mogul had a premonition of his death but he took it with levity.
"He had a premonition of his death. He saw it coming but he never took it seriously. He was a free minded individual and was not conscious of his security. Despite the fact that he was a multi-billionaire, he was so free to the extent that he ate in the bukateria.
"In the past few weeks he had been behaving strangely. He told me that he was not  sure of his security and he believed some people were trailing him. I told him what he should do. Two months ago, he buried his father at Ijebu and had just bought a Murano jeep but could not take it home. He had to park it somewhere," the source said.
The police source also told P.M.NEWS that two weeks ago, the deceased reported to him that some armed robbers operated behind his house but he was not around. He said when he was coming home some strange faces accosted him, enquiring about the  residence of WACO, not knowing he was the one they were looking for.
He added that the late Sodipo equally reported the case of a life threatening text message he had been receiving on his phone lately from a colleague in Aluminium Village who was owing him some money and had refused to pay.
The police source told P.M.NEWS that though the association had intervened in the matter, the late Sodipo insisted that he would collect the goods worth the amount his colleague owed him, a decision he was yet to take before he was murdered.
The DPO of Dopemu Police Station, Funsho Adegboye, declined to comment on the matter, adding that the police PPRO has been briefed and investigation was ongoing.
Efforts by P.M.NEWS to speak with members of his family proved futile.
—Jamiu Yisa & Oluwole Adeboye
Load more