Dozens of shops were gutted by an early morning fire today at Pako market, Ketu area of Kosofe Local Government of Lagos, South West Nigeria.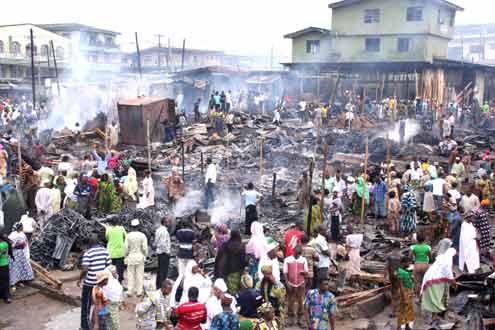 Sources told P.M.NEWS that the inferno was triggered by an electric spark in one of the shops at about 3 a.m. today.
Eye witnesses said some shop owners lost all their life savings to the incident that lasted for several hours.
As at 8 o'clock this morning, the firefighters drafted to the scene were yet to put the fire out. An early morning rain came too late and did too little to extinguish the raging fire.
Some shop owners were seen wailing uncontrollably. Some shops were burnt to ashes while others were partially destroyed.
Policemen were seen helping at the scene of the incident. The inferno trigged a thick smoke that caused traffic gridlock around the area.
It was not clear how much was lost, though sources told P.M.NEWS that the loss could amount to millions of naira.
—Simon Ateba
Load more