President Goodluck Jonathan this morning signed the 2010Electoral Bill recently passed by the National Assembly into law thus paving the way for elections to be held next January as stipulated in the bill.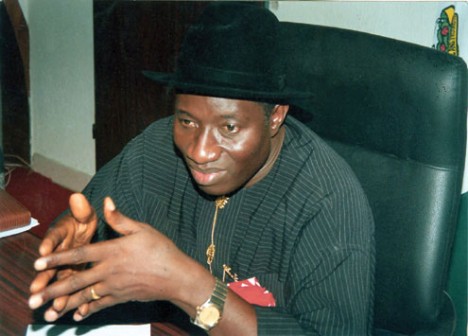 President Jonathan said during the signing ceremony that though there are reservations about some sections of the Bill,he had to sign it because of his promise to Nigerians during his inauguration on 6 May that he will do all within his "powers to preserve the sovereignty of Nigeria by guaranteeing the sanctity of the ballots".
The President said he received three copies of the Bill just three days ago.
"This commitment was made because of my belief that unless the right of our people to decide who governs them is enforced and protected, politicians and government officials will not be persuaded to act at all times for the common good of all", the president said while emphasising that the Bill contained fundamental changes aimed at improving elections conducted in the country.
According to Jonathan, "the Act we have just signed today introduces staggered elections in Section 25, the mode and manner of conducting party primaries and respect for party autonomy in Section 87 and among others".
"Although serious concerns have been raised regarding some of the Sections and their capacity to constitute our inspiration for expanding our democratic space, we are driven by the belief that the promise of the process has greater potential and options to broaden and advance our march to democratic freedom than undermine.
"To me the process leading to the passage of the bill was a test of the nation's emerging democratic maturity. It is proof that this system can muster the capacity to correct itself while the nation moves on to a higher level of political development."
President Jonathan added: "This ceremony is further evidence to those who maybe tempted to doubt our commitment to electoral reforms, the commitment we gave is a matter of honour. Since coming into office, I have emphasized that this administration will do all that is needed to guarantee free, fair and credible elections in 2011 and beyond.
"I have said time and again that I will not consider my personal interest nor the benefit of my own political party in doing that which will secure credible elections for our people."
The president, however, appealed to a Nigerians to take active part in the electoral process so as not to in his words, "yield the play ground manipulators. As Nigerians, we must not allow ourselves to be seduced by apathy and elections injustice. The reward for such lethargy will undoubtedly be instability an underdevelopment. Let us all commit to the protection of integrity of the electoral process as guaranteed under the law."
While speaking to reporters after the signing ceremony, Olusegun Aganga, the Minister of Finance said the funds approved for INEC by the National Assembly has already been released to it.
—Oluokun Ayorinde/Abuja
Load more