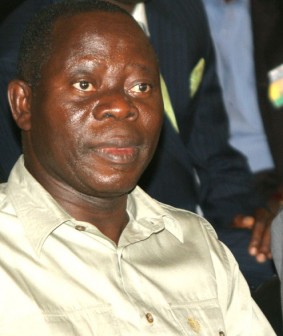 Nollywood and Edo centric movie maker, Lancelot Imasuen, is on the move again. Come 29 August, 2010, his new Edo language-based movie, Obama, will premiere in Atlanta, Georgia, USA. And the special guest of honour will be Edo State Governor, Comrade Adams Oshiomhole.
Imasuen, who just jetted in from the United Kingdom some weeks ago, said the new project is part of the Edo Leadership Assembly, ELA programme.  ELA is a foremost Edo advancement advocacy group dedicated to advancing the course of the Edo People.
"I was an award recipient a couple of years ago at the inaugural edition of ELA in Chicago," Imasuen said. "This year, some great Edo sons and daughters would be honoured including the Executive Governor of Edo State, Comrade Oshiomhole, who will be special guest of honour alongside his Excellency, Prince Ihendien Erediawa, Nigeria's Ambassador to Italy," .
Advancing reasons why he shot Obama, the prolific movie director said it was his own way of contributing to the socio-cultural development of Nigeria and mobilizes Nigerians at the grass roots with a view to correcting the political ills plaguing our nation.
"I believe in the new Nigeria. Nigerians must begin to enjoy the dividends of democracy. Obama means the king is good. And as my own contribution to the 'one man one vote' dream of Adams Oshiomhole, I've come out with a language based movie, Obama, because I believe that we have to reach the grassroots and mobilise the people. If the people know that after voting they must stand for their votes to be counted, it would be difficult for anybody to rig and you will see all the political gimmicks that politicians play unraveled," he explained.

—Funsho Arogundade
Load more