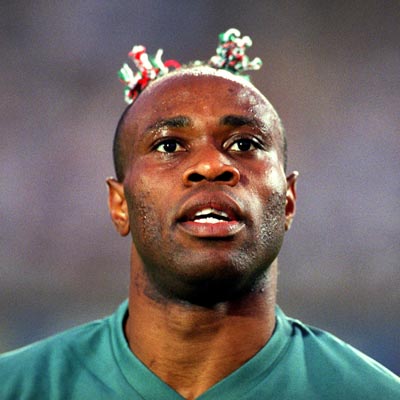 Two former internationals, Emmanuel Babayaro and Taribo West have different opinion about the call for former players to vie for positions in the new board of Nigeria Football Federation, NFF.
There are calls from some quarters that ex-Eagles, who are interested in joining the NFF should contest in the forthcoming elections of the federation.
Taribo, former Eagles' defender is behind the move as he explained that time was ripe for ex-players to take administrative positions in the NFF.
He noted that the past administrators in the Glass House have failed to deliver, hence the need for the former Eagles to take over the administration of the country's football.
But, Babayaro on the other hand does not support the idea in totality. Rather, he wants a credible person who can change the fortune of Nigerian football as leaders of the board.
"I want somebody who is honest and transparent on board of the NFF because all the past administrators just used the soccer house to enrich themselves.
"I would love some ex-players to be on board, but they should not go for the presidency and secretary general's posts. These are sensitive posts that need experience persons and technocrats", he noted.
Also, former Chief Coach of Shooting Stars Football Club, 3SC of Ibadan, Geoffrey Esu said the NFF needs people who can bring sponsors to lift the country's soccer and not necessarily former players.
Esu wants a total ban on the officials who have held one post or the other in the previous NFF boards, saying they should not be allowed to contest in the next elections.
Taiwo Adelu
Load more