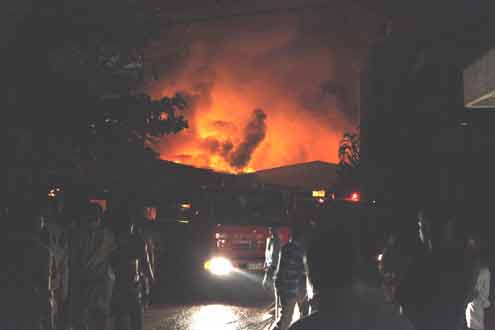 Equipment worth billions of naira were lost yesterday as fire razed Ultima Limited's studios where MTN sponsored programmes; Project Fame and Who Wants To Be A Millionaire are recorded.
The studios, which are located inside Murhi International House, Omole junction, Isheri Road, Ojodu, were gutted by fire at about 8:30 p.m yesterday.
P.M.NEWS gathered that the fire started from an electric spark from the roof of one of the studios, shortly after the recording of an episode of the popular Who Wants To Be A Millionaire programme.
When P.M.NEWS visited the scene of the fire incident last night, the staff of Ultima Limited were seen counting their loss.
One of them, who could not control his tears, said "this is very sad. Where are we going to start from? We could not even take a pin out of the studios. I don't think this is ordinary."
When the fire broke out, most of the staff had gone home, having finished the recording of Who Wants To Be A Millionaire. Most of them had to rush back to the office following calls that their studios were on fire.
According to sympathizers at the scene of the incident, the damage would not have been that much if the of Lagos State Fire and Safety men had intervened fast.
In the words of a sympathizer identified as Wole, "when we discovered the incident, we immediately raised an alarm and tried all our efforts to bring the fire under control. But the fire service men did not come until about an hour after we called them. Even when they eventually came, they were short of water to combat the inferno immediately. We thank God that no life was lost."
The Corporate Affairs Manager of the company, Olumide Akinlabi, was heard screaming "we are doomed! We are doomed."
And when he eventually spoke with our reporter, he noted that "we just finished recording and I was almost home when I got the call, so I had to rush back…everything is gone."
Meanwhile, the contestants of the on-going third edition of Project Fame West Africa have been relocated from their Academy to a nearby hotel.
Ultima Limited is a production outfit owned by Mr. Femi Ayeni.
—Bayo Adetu
Load more