At barely 11 years old, Ganiyu Quadri is already dreaming big. His dream is not only to equal his father's achievement in table-tennis, but to surpass it in the nearest future.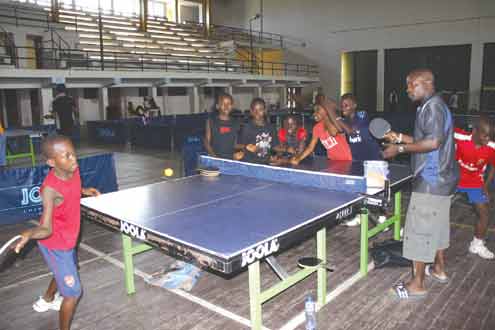 The young Quadri, a pupil of Bariga Junior Grammar School (2), took a cursory look into the future and vowed that what his father, Mr. Quadri, who is now a table-tennis coach could not achieve in the ping-pong game, he is ready to achieve it and even surpass it someday.
The Junior Secondary School, JSS 3 pupil has taken the bull by the horns and his search for honour took him to the Adopt-A- Talent Sports Programme, an initiative of Prince 'Wale Oladunjoye, the Senior Special Assistant, SSA, on Grassroots Sports Development to Governor Babatunde Fashola.
Quadri started his quest at the age of six and since then he has not looked back. He told P.M.Sports at the training camp of the programme at UNILAG Sports Centre, Yaba, Lagos, Nigeria, that he won't allow anything to stand between him and his dream.
Quadri said since the camp started, he made sure that he listened attentively to the table tennis coach, who happened to be his father.
Although the senior Quadri, a Physical and Health Education graduate of Lagos State University, LASU, was only able to win a bronze medal at the 2005 West African Universities Games, WUGA, his son is looking beyond this.  He said he wants to represent and win medals for Nigeria in international competitions in the future.
Speaking with P.M Sports after a training session at the Indoor Sports Hall of the sports complex, he admitted that though the path to glory is rough and narrow, he would leave nothing to chance to ensure he does not lose focus.
" I would remain steadfast in my quest to rule the world of table-tennis. I know it would be tough but that doesn't mean it is insurmountable. I've also told my father that what he was unable to do I would do more than that. Where his name wasn't heard, I would take it there with my serves and strokes," he said.
Asked why he decided to take to table-tennis instead of other better paying sports like football and basketball, he responded: "I'm aware that some sports are more lucrative than table-tennis, but I chose the ping-pong game because I love the sport.  I have passion for it and would not relent in my quest to become a world champion someday."
Quadri showered encomiums on Governor Fashola for giving his support to the Adopt-A- Talent Sports Programme, saying it is an initiative that will help discover budding talents not only for the state but the country as a whole.
He disclosed that he and the other athletes were at home at the camp located within Myoung Barracks, the Nigerian Army Sports Camp in Somolu, Lagos.
"We were well fed. We ate three square meals. It was a home away from home.  I'm so proud to be part of this initiative of Lagos State government. I pray that God will provide the resources to sustain this programme."
The senior Quadri in his reaction disclosed that he is a coach and he is still playing the game. He said that if the chance comes his way he would still like to represent the country in international competitions.

—Adebobola Alawode
Load more