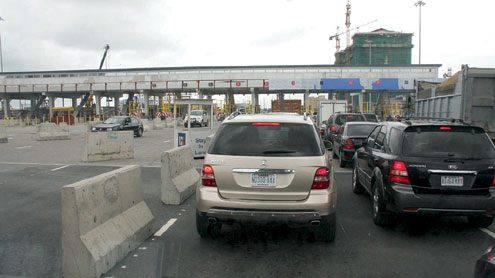 Governor Babatunde Fashola of Lagos State, Nigeria, has warned that the state government would no longer tolerate a situation where protesters in Lekki area of the state would block the expressway, causing traffic gridlock in the guise of protesting against toll gate fees.
The governor spoke today while inaugurating an 18-member committee on the Lekki-Epe Expressway Expansion, with a bid to resolve the controversies generated by the toll gate fees introduced on the expressway.
Last week, residents of the area protesting the planned introduction of toll fees blocked the major expressway, holding up traffic for hours.
The governor made it clear that while government recognised the rights of people to protest when they were aggrieved about a particular policy, they should not use their protest to disturb others or infringed on the rights of others.
According to Fashola, protest has a limit, adding that "you can't shut down a major thoroughfare and disturb the businesses of other people.
"While we are in this discussion, I hope the incident of last week will not repeat itself again.  We will not abdicate the interest of the majority for the few.  Last week's protest was to punish the citizens," he stated.
The governor opined that residents of the area embarked on protest because they did not have enough details at their disposal, saying that the committee was meant to give them details about the project.
"Everywhere there is a toll gate, the authority had faced this kind of protest; talk about Europe, South Africa and the rest; Nigeria is not an exception," he said.
Fashola stated that the terms of reference of the committee was to find amicable resolution of the issue that led to the agitation by residents of the area and work towards arriving at a compromise.
In setting up the committee, Commissioner for Information and Strategy, Mr. Opeyemi Bamidele, said the state government decided to concession the road project to the Lekki Concession Company, LCC, to improve the standard of the road, saying that in doing this, government had to contend with the vested interest of the Public Private Partnership, PPP, and the interest of the host community.
The 18-member committee is chaired by Mr. Ayo Gbeleyi, Director-General, Lagos State PPP, who assured that the committee would meet the September ending deadline given it to submit its report as well as address thoroughly, the issues at stake.
—Kazeem Ugbodaga
Load more