Friends and family members on Saturday paid their last respects to Mrs. Cheryl Okafor  (Moncrieffe), who was killed last week by her Nigerian husband, Prof. Chukwudubem Okafor, in Pennsylvania, United States.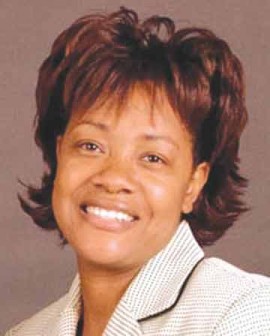 The 37-year old Jamaican woman was buried six days after her tragic death at the hands of her husband, who also committed suicide. The News Agency of Nigeria reports that a two-hour service in her honour took place at the New Hope Baptist Church in Reading, Pennsylvania.
There was a public viewing of her corpse in the church before her burial at the Laurel Dale Cemetery in Reading. Cheryl's four children, Calvin Philmore, Jahil Little, Christian and Nkechi Okafor – born to her and Chukwudubem- were present at the service.
Patricia Ofili, a sister to Chukwudubem, who relocated to the US from Nigeria some few  months ago, was also present at the service with her children. It was at her house that the couple met their tragic death, in what the Berks County coroner described as a "suicide-homicide."
Cheryl's surviving mother, Wenderly Brown, did not attend the funeral but a family member read her tribute at the service. "Her life was worthwhile. She was the first of my six roses (children) placed in my garden. "Let us not weep like those who have no hope in God… to my four grandchildren, God be with you all," Ma Brown wrote in her tribute.
In his sermon, Rev. Jeffery Bell, the resident pastor of the New Hope Baptist Church, revealed to the congregation that late Cheryl was on the verge of completing her training as a minister in the church before her sudden death.
"She was a minister in training, where she was scheduled to receive her licence to minister the gospel within the next six months.
"She was a very giving person always willing to give herself to help others," he said. The cleric described Cheryl as a "fighter," who fought "abuse, low-self esteem, bad  relationship and bitterness.
"As her pastor, I know she was a child of God and lived a life of victory.
"I am so glad that I stand here to preach about someone who knew God; she is not dead but her spirit has left her body to be with the Lord."
NAN reports that her preacher's licence was posthumously presented to her family. NAN also reports that several members of the church eulogised Cheryl's commitment to helping others, in spite of having a history of violent marriages.
A date for the burial of the husband was yet to be fixed at the time of this report, but church officials, family and some members of the Nigeria community are working towards Wednesday or Thursday.
Police said the couple had a history of domestic-violence in their union and their previous marriages. Cheryl left her first husband, Alfred Philmore, in the early 1990s.
In 1998, her former husband shot her boyfriend, Osmond Walker, dead in Reading. Philmore  was convicted of the crime in 1999 and is in a state prison in Fayette County.
Chukwudubem, the 64-year old husband of Cheryl, who was an associate professor of  English at Kutztown University of Pennsylvania, married twice before meeting her.
Load more