Since Yoruba star actor, Saheed Balogun's romance with upcoming actress, Funke Adesiyan, began, the actor has been facing criticisms from his friends and family members, particularly his mother, who did not see her son's decision to marry the actress a palatable one.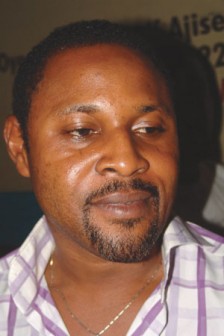 Saheed's  mother is said to be so bitter about the relationship that  she has visited the actor's Ikorodu home a couple of time to warn him to quit his relationship with Funke.
For some months now, Saheed and Funke have been enjoying good time together. They were seen together at a celebrity event recently, thereby giving convincing evidence that they are new lovers.
Following a report by NollywoodReel last week on the duo's love life and how Saheed abandoned a lady he did a traditional wedding with in London,  Funke called our reporter on Friday, but refused to comment on whether she is dating Saheed or not.
She only said, "why did you publish his (Saheed's) address in the story when you know that armed robbers attacked him recently?" She refused to confirm her relationship with  the actor.
Meanwhile, sources close to Saheed squealed to NollywoodReel that his friends have also been questioning his decision to make the upcoming actress his new love.
"Everybody was just surprised because Omoh (the London-based wife) is better than Funke. So I can't imagine why a man with diamond will be chasing stones… the difference is clear," the source said.
Load more