Former Super Eagles' skipper, Segun Odegbami, who pulled out of today's elections into the executive board of the Nigeria Football Federation, NFF, says he is heading to the Court of Arbitration for Sport, CAS to press home his protest against the NFF polls.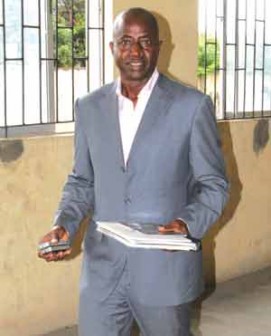 The NFF presidential aspirant revealed that he is against the processes leading to the polls and will equally petition the governing bodies of football in Africa, CAF and FIFA to ensure that equity reigns in the administration of Nigerian football.
Odegbami, who led a protest march in Abuja, argued that elections into the state FAs have to precede that of the NFF board and that most of the delegates for today's elective congress are not eligible because their tenures have long elapsed.
In a statement on behalf of the ex-internationals and signed by Gideon Njoku, the organisation asked all former players to withdraw from the elections because there is a court order against the polls and as law-abiding citizens they should respect this ruling.
The ex-internationals also kicked  against  the electoral process, describing it as "faulty, illegal and unconstitutional".
Former international Odegbami has severally lost his bid for the position of president of the Nigeria FA.
Odegbami had first dismissed media speculations that he will not pull out of the race.
"Having come thus far, I don't have any reason to withdraw. A general does not withdraw from the war," Odegbami had argued.
In the meantime, the National Sports Commission (NSC) addressed a press conference in Abuja late Wednesday to say it will not interfere with the NFF polls.
According to a statement signed by NSC director-general, Patrick Ekeji, NSCÂ  urged the NFF to conduct an election whose outcome would be sustainable.
Meanwhile, elections into the executive committee of NFF are expected to be going on right now despite a court order putting the polls on hold.
Delegates have already converged on Abuja and NSC Director General Patrick Ekeji made it clear the government would not intervene.
"As the supervising agency of the NFF, we are duty-bound to offer advice occasionally if it is necessary to do so," Ekeji said in a press statement in Abuja, yesterday.
"But we urge the NFA to ensure that it takes into consideration any issue that may negatively impinge on the outcome of the election, especially the court case."
The latest court process was instituted by the National Association of Nigerian Footballers (NANF), led by Harrison Jalla, but the body was de-recognised by the NFF and expelled by FIFPro.
Dahiru Sadi, who heads the rival Association of Professional Footballers of Nigeria (APFON), says NANF is an illegal body which has no right to institute any court action.
Load more