The perennial problem confronting football in Nigeria over the years can only be solved if there is genuine desire to have a change by all stakeholders of the game in the country.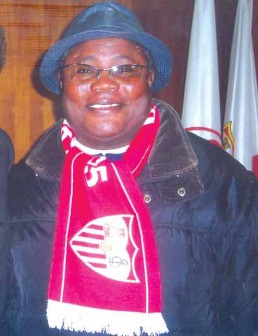 This was the submission of a seasoned Nigerian football coach, Babatunde Sanni Ibraheem, who wants football administrators in the country to take a cue from how the round leather game is being run in Spain.
Coach Ibraheem, former Provost of All Stars International Football Club of Lagos told P.M.Sports that his five years' sojourn in Spain and exposure to Spanish football have revealed to him that bad administration is one of the problems facing football in Nigeria.
The former coach of U-14 team of Lagos State, that won the Chief of Naval Staff Cup in 2004, said while he was in Spain he discovered that the country has long term programme for her football especially the league, La Liga.
"In Spain, there are leagues for the U-7, U-10, U-12, U-16 and the senior players, which are sponsored, because there is law that compels companies to sponsor sports within their localities. I discovered that there is no fire brigade approach attitude to things over there, while concerted effort is geared toward grassroots sports. I attended a coaching training at the Nigeria Institute for Sports, NIS, but when I got to Spain in 2005, I discovered that football is a different thing to what we are doing here in Nigeria," said Ibraheem, who was the coach of a selected Nigerian team (Selecion Nacional De Futbol De Nigeria) that usually take part in an annual tournament called the Immigrant Mundalitos Federation Cup in Sevilla, Spain. His team won the tourney in 2007.
"I was exposed to a lot of things, which made me concluded that we need to take a cue from how football is run in Spain. The facilities are world class. You can imagine that a local club has three stadia with floodlights for training and playing matches.
"I now begin to ask myself that do we really have genuine people running our football. Do they have good things in their mind for our game? What I'm saying is that we need people who are focused not those who have been using the Nigeria Football Federation, NFF, as a money making venture. We need an NFF which will be ready to comb villages across the country for talents. That is why the country needs a functional Youth Sports Federation of Nigeria, YSFON, football academies and a genuine schools sports programme like in those days ," said Coach Ibraheem, who took H.O.D. Babes of Surulere Local Government to World Youth Football Championship in Scotland, Aberdeen, in July 2002.
On the Super Eagles and their myriad of problems that culminated into dismal outing at the South Africa 2010 FIFA World Cup, Ibraheem said that over dependent on foreign based players will continue to affect the team. "We rely too much on the so called professionals, who are not even doing well in their various clubs. I recalled that the bulk of the Spanish national team that won the 2010 World Cup were from the team that featured at the Nigeria 1999 U-20 World Cup. We cannot sustain our team of that year because the players were not within the age bracket.
"What we need is a Super Eagles team of talented local players that are well fed, motivated with good programme that will bring the best out of them. When I was coaching the H.O.D. Babe, I used to go to playgrounds at Ajegunle, Aguda, Surulere, Mushin and other grassroots competitions. This resulted in my team's success in most of the YSFON competitions and the awards I won. Former Chairman of the then Nigeria Football Association, NFA, Alhaji Ibrahim Galadima, gave me the Best Grassroots Coach Award in 2004 when I played the Chief of Naval Cup with 10-men in the final and won the tourney.
"I like what Clemence Westerhof did for Nigeria during his time as the Technical Adviser of the Eagles," said Ibraheem, who handled Superstars W.A, a local club of  Ayuntamiento de San Juan Aznalfarache, Sevilla, Spain.
On the clamour for Samson Siasia to take over the Eagles' job, Coach Ibraheem has a different thought. "The Super Eagles are a team bigger than Siasia. I doubt his technical ability to handle the team. I think we should second Siasia to a qualified and sound foreign coach first then he would take over the job.
"We need a coach who will travel all over the country to search for players. A coach who will raise his team from the grassroots. I see in Siasia the quality that will help the foreign coach to get the best out of our local talents. If care is not taken and Siasia eventually takes up the job, Nigeria may likely fail or he may be the worst coach we ever had. The problem with us is that we want an immediate result. We hate defeat and are impatient. With the 2012 Nations Cup qualifiers around the corner, Siasia may not have enough time to handle the Eagles to get the immediate results we want," he said.
—Taiwo  Adelu
Load more