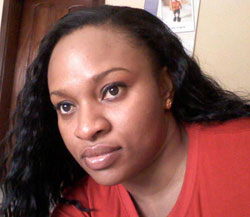 My work as a beauty consultant and public speaker gives me the opportunity to relate with people on daily basis. Also being a woman has opened me up to a lot of things, both good and bad. I have come in contact with different kinds of human beings, male and female. But for the interest of this column, I will talk about my moments with men.
I am one person that is so blessed with a lot of experiences in life. I am happy to see myself a very adventurous person who constantly wants to gain more knowledge in the different areas of life. I don't believe I should shut the world outside believing there is nothing left to be explored. There are still a million and one areas of life I have to explore before leaving this world.
Okay guys, let me take you a little bit into my world of endless stories. So many people come to me at different times for counselling (sometimes a means to an end), programme invitations, and sometimes, to ask for a date. I don't believe I should insult guys outrightly; I give them the chance to feel like men before I put them right on track. Below are my most embarrassing moments with men.
Sometime last year, a guy came to my office very early in the morning. On that faithful day, I had a meeting somewhere before heading to the office at 11am. When I got to my office, my secretary came to tell me there was a man waiting at the reception. I tried to make him wait, my secretary said he was in a haste. Immediately, I asked him to be allowed into my office.
Guys, on entering the office, the guy started acting funny. I sat down lost over his behaviour. He was busy bringing out papers from his folder. I didn't utter a word, but I was there wondering at his level of stupidity and at the same time confused. When he was done with the papers, he sat down right in front of me. He started asking questions in a very funny way making me irritated by his foolish trader mentality.
After so many questions which I didn't deem fit to answer, he asked me to marry him. I laughed uncontrollably. I then asked if he was told I needed a husband. He started showing me his documents for his properties, bank account, businesses nationwide, etc.I was dumbfounded. When I could no longer take it, I called my manager to lead him out of my office while I stepped out to attend to my clients. What a foolish way to ask a woman out.
Embarrassing moment number 2
In the course of my articles, I have been privileged to touch lives for good. I have seen relationships mended; I have seen the hopeless regain hope. I have seen homosexuals changed their ways and reasoning. This is the greatest thing God has used me to do in this life; touching lives.
Being someone with so much compassion (though I try to change sometimes), I have found myself always wanting to put smiles on the faces of people. I love it when I see me doing things that affect lives positively. This is my calling in life and I can't stop doing it because I realised I was born for it. But people have always taken advantage of my kind hearted nature.
A day came that some young man came into my office pretending to be interested in education so as to get a good job. Thank God, a very good friend was there. Immediately he came into my office and started talking, I sent for my friend who came in to join us in the conversation.
This guy told us how he has suffered so much in life without making success. According to him, he was touched by my article on low self esteem and needed to go back to school to read law. My friend asked him to go to his school of choice, probably LASU, where he can enrol for a part-time course and still keep his job. He promised to sponsor him to any level.Guys that was the last we heard of him. Weeks later, he called to come and see me and I bluntly said no to his request. This is a very good example of the kind of people we have around us. They want to be given fish; they detest being taught how to fish.
Most Embarrassing Moment 3
I have the look that deceives people into thinking I am naive when it comes to issues of life. I don't keep much friends and I think that is one reason they see me as someone who is not exposed in certain areas of life. But the fact is that I can only allow you feel on top of the game because I want to, not because I don't know what you are up to.
A guy, who claimed to be in the oil and gas sector, came as a client who needed a skin analysis and prescription. Just like every other business person, I was excited to have a customer that afternoon. I went straight to business, did the skin analysis and then asked the therapist to get the facial room ready for him.
He didn't leave immediately. He asked for my card which I gave out without a second thought because I don't have my private lines on it. On asking for his own card, he gave me a card that has no address and the phone number is that of Switzerland. He claimed to own an oil and gas firm that has no address even when he claimed to have 4 gas stations in the East. When I got tired of the well dressed man who came to make a fool of him that afternoon, I called my staff to take him to the facials room while I told him I will be going for lunch. This guy, who I knew very well, was broke. But in his effort to cover up his foolishness, he brought out a $400 and asked me to manage for lunch. Trust me, I took it just to teach him a lesson. Later, I sent him a text  letting him know I have always met people like him and advising him to be real to himself . I also told him to come back for his dollars, but he never did.
Most Embarrassing Moment Number 4
Guys, I am not saying this for you to feel bad because I know some men with small minds are going to misunderstand this. Last year, I wrote an article on body odour. This problem of body odour has caused so many people to lose many wonderful opportunities.
This one is about a man, well dressed and handsome. He is a learned gentleman with years of experience. I called on this guy for a very crucial discussion that could have helped his career. A friend asked me to get a lawyer to handle some matters for him that has to do with some expatriates. This deal was going to fetch him about £5m.
This lawyer, whom I met in church, came to my office that fateful day for us to talk before I send him to the man. I couldn't spend five minutes with him before sending him to my friend due to the foul smell emanating from his body. I had to quickly send him to my friend.
Days later when I didn't hear from my friend, I called him to know how the meeting went. To my utmost bewilderment, my friend asked how I could send such a person to him for a case with top government officials and expatriates. Guys that was how he lost that business. Please deal with this body odour or mouth odour because it will only end up embarrassing you and blocking business opportunities for you.
Embarrassing Moment 5
This happened just recently. I attended a friend's birthday thanksgiving in her church. During the message for the day, the pastor, while preaching walked up to me talking and talking. So many pastors do this, but why I write about him is that the first time I tried to raise my head to look at his face, I got saliva, a very big one on my face. I couldn't raise my face again as he was preaching to me. Thank God I had wet wipes in my bag to wipe it off instantly. It was horrible that I rushed to the bathroom immediately I got home.
Embarrassing Moment 6
Sometime in July, I went on a business lunch with a guy from a company I did some jobs for. We decided to meet and talk over a business proposal at a Chinese restaurant in Ikeja. On getting there; I waited for an hour, thirty minutes before he came in. We got talking while they were getting our meal ready.
They had not finished serving the meal when this guy pounced on it and started eating not minding my presence. As he ate, there was this sound coming from his chewing. Not just the sound now, he was also talking at the same time;"hmmm, this is good" repeatedly. He later got up, removed his jacket and continued with his meal. Other customers there did not help me as they focused on us, smiling and talking with their eyes. It was a bad business day that left me miserable at the end of the day. On getting home, I couldn't help talking and laughing over it.
Embarrassing Moment 7
This one happened right in my office. A client/friend who is a very lousy person, came into my office, dropped his bracelet on my table before sitting down. He asked me to help him give to my gold smith for repairs. I was mad with him.Guys, I wasn't angry with this guy because he asked me to help with the bracelet. I was mad because he picked it up again and asked me to look at what was written on it – "Akajiugo". I, being a very proud Nigerian woman (if that's what you call me), instantly threw it towards my door and asked my cleaner to pick it and take it out of my office. I warned him never to enter my office with that kind of attitude as he should know I am not hungry and I have more than that. Yes, my cleaner later took it to the goldsmith.
Embarrassing Moment 8
A pastor was invited to my church for a programme. This Ghanaian pastor uses magical powers to call people's names making them believe he is of God. On the first day of the programme, when he called for money, I pledged. But I didn't pledge because of the magician, I pledged just to assist the church. Immediately, he started with his false prophecies, thinking I am one of those ignorant women they take advantage of.  He later asked me to wear a white clothe the next day being a Sunday for him to recognise me.
The next day, contrary to his order, I wore a red dress. He still called me out after getting my name from people around. When he asked me to drop another offering, I, before the congregation told him I don't have any other money on me. He asked me to see him after service. I met him when we sat to eat after the programme. He was busy winking at me and later came to drop his number with me. The next morning, he called asking me to his hotel room. He even asked me to relocate to Ghana for him to buy a house for me. Guys, you can see,  I just pity the ignorant people falling prey to people like this thief.
My reason for this article is for you to read and make amends . If you want a woman, don't make yourself look stupid by putting wealth on her face. It's a very foolish thing to do. You also don't need games to win a woman over. Get real for once please.

Load more