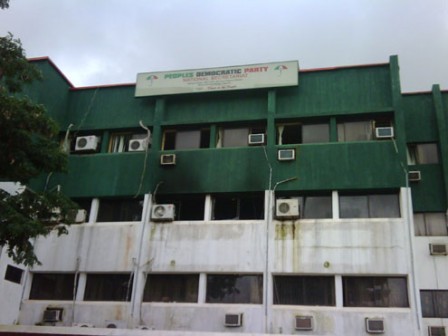 An early morning   fire today  gutted the Conference room of the National Working Committee and some adjoining offices at the Wadata Plaza, Wuse Zone 5, Abuja National headquarters of the party.
There are different accounts of when the fire which raged for about an hour before it was put under control started. An eyewitness who is a staff of a branch of a bank located opposite the Party secretariat however told journalists that the fire was noticed around 9. 15 am on Saturday morning.
But Ade Abolurin, the Commandant General of the Nigerian Security and Civil Defence Corps who led his men in efforts to put out the fire before the arrival of officers of the Federal Fire Service said he was alerted about the fire around nine in the morning.
However, the men of Fire Service led by one Karebo Sampson arrived later to join in efforts to put out the fire.
It was gathered that the men of NSCDC has to break the window of the Conference room which was located in the second floor of the Secretariat to be able to gain access to put out the fire as the key to the room was not available.
Also, the fire extinguishers in the building have expired, thus useless in putting out the fire. It was gathered that the extinguishers used to combat the fire before the arrival of the Fire Service was brought by the men of NSCDC.
Kawu Baraje, PDP's National Secretary who arrived after the inferno has been successfully put off declined comment on the incident when he was approached by reporters.
A large contingent of armed policemen and men of NSCDC were deployed to the Secretariat following the fire incident.
Ogbonna  Onovo, the Inspector General of Police however told journalists that  the fire incident  was probably caused by electrical fault.
He added that the fire incident was confined to National Working Committee Conference room with minimal damages to some of the adjoining offices.
The Police boss however gave credit to NSCDC and the Fire Service for their prompt response to the fire incident.
"We thank God for the prompt arrival of the fire service, the police, the civil defence and the officials of PDP here who made it possible for the fire to be curtailed, otherwise, it would have been a calamity", said the IG.
This was also confirmed in an interview with PM NEWS by the NSCDC boss:  " In this case,  our findings is still showing an indication of perhaps, carelessness at work-when people will not put off fans, air conditioners and other electrical appliances, the next thing you will see is that when they are over charged, then something trip off"
"Because look at this edifice, some of the doors and  some of the partitions are done with wood, so it would have acted as inflammable object and incendiary to exacerbate the situation, but like I said we thank God that it was contained and no casualty" he added.
Load more