Renowned Nigerian boxing coach, Joe Mensah, has  commended the Lagos State Government led by Mr Babatunde Raji Fashola on its initiative to groom players from their tender ages through the Adopt-A-Talent Sports Programme, which he described as an innovation alien to Nigeria.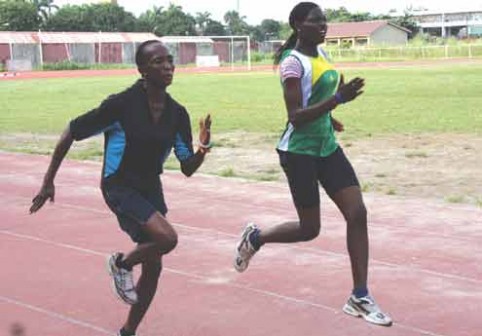 Mensah,  one time Chief Coach of Lagos State Boxing Association, said he could not reject the offer when the initiator of the programme, Prince Wale Oladunjoye, the Senior Special Assistant on Grassroots Sports to Governor Fashola approached him to be part of the project.
As a coach who has travelled abroad and experienced how sports is being managed, Mensah  said he shared the same vision with the governor on the programme.
"All the coaches share the same vision with the governor on this programme. This is how they do it abroad. It's good to catch these athletes at their tender  ages. It will also help curb age cheats and assist building budding athletes. We thank the governor for approving this initiative," said Coach Mensah, who was the Camp Commandant of the programme held at the Nigerian Army Sports Ground, Myong Barrack, Somolu,  where 109 athletes were discovered.
During the send forth ceremony held to round off the camping exercise, some of the athletes expressed their gratitude to Governor Fashola for giving them the chance to discover their talents through the programme.
Captain of the boxing team, Taiwo Abiodun, said he and his colleague were grateful to Fashola for the programme, which was designed to discover budding talents, adding that the athletes will forever be grateful to the Governor.
Fifteen years old Abimbola Olasope, who wants to specialise in athletics, said: "The programme and the camping has really helped me discover my talent. I want to say that all the athletes here were fortunate to be part of this project and we thank the governor for it."
Volleyball athlete, Okewu Alexandra, said the camping was an eye opener for him, adding that he would never forget what he has learnt.
Aregbesola Limota, a Table Tennis player, said if the programme is sustained she believes the problem of getting young talents for tournaments in the state will be solved.
Football player, Patrick David, said he gained a lot from his coach, ex-international Tajudeen Disu and thanked Governor Fashola for giving him the opportunity through the Adopt-A-Talent Sports Programme.
Some of the personalities who attended the send forth party were ex-internationals Henry Nwosu, Samson Ozogula and Edema Benson and a host of others.
Meanwhile, the management of the programme will soon release the names of successful athletes, who will be called to camp in the next stage of the project.
P.M.Sports gathered that Prince Oladunjoye has informed the coaches of various sports in the programme to furnish his office with the names as soon as possible so that a sustainable plan will be drawn up for the successful athletes.

—Adebobola Alawode
Load more