The United Nations Environmental Programme, UNEP, said in Abuja today that its study of incidents oil spill in the Ogoniland is being hampered by hostility from the communities in the area.
UNEP is conducting the exercise at the request of the Federal Government.
Mike Cowing, UNEP representative in Nigeria, said during the presentation of the preliminary report of on oil spills in Ogoniland to President Goodluck Jonathan at Aso Rock Presidential Villa this afternoon that the study team was not only  chased out of Gokana Local Government Area, its borehole and other  equipment were destroyed.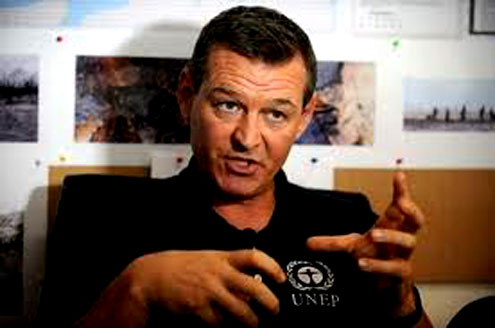 He added that as a result, the team of assessors had to withdraw from the area.
Nevertheless, he said the team of about 100 experts involved in the assesment has concluded work in four local government areas.
Cowing said 17 spill sites have so far been analysed in the assessment which began in the second quarter of this year.
He added that illegal bunkering activities is also contributing to the environmental contamination in Ogoniland.
The UNEP official said if security environment improves in the area, the team can conclude its work by January 2011.
Cowing, who said his team will not return to the area except the security situation vastly improves, said the ongoing study will have to be repeated completely if it is delayed beyond 12 months.
In his response, President  Goodluck Ebele Jonathan stressed that the main objective of the ongoing assessment of the environmental impact of oil contamination in Ogoniland is to establish the level of pollution in the area and determine the best remedial actions.
Speaking after receiving an update on the assessment from the UNEP team,  in Abuja, on Monday, President Jonathan urged the people of Ogoniland to support and cooperate with those conducting the exercise as its outcome will help to ameliorate the negative impact of oil contamination on their environment.
The President said that the Federal Government will work with the Rivers State Government and leaders of the Ogoni people to overcome the security challenges in parts of Ogoniland which are hindering the completion of the extensive assessment of the environmental and public health impacts of oil contamination in the area.
He thanked UNEP, the Shell Petroleum Development Company and members of the Ogoni Reconciliation Committee headed by Rev. Mathew Hassan Kukah for their roles in the assessment exercise, saying that he looked forward to receiving the report.
UNEP has come under criticisms lately over allegations that it blamed sabotage by the Ogoni people for most of oil spill incidents in the area in its report.
The organisation has, however, denied this while affirming that it is yet to conclude its work.
By Oluokun Ayorinde/Abuja
Load more