Chairman of the Economic and Financial Crimes Commission, EFCC, Mrs Farida Waziri has insisted that nothing will stop the anti-graft agency from working with other sister organisations to ensure that public office seekers with corruption cases hanging on their neck are denied further access to loot the nation's treasury.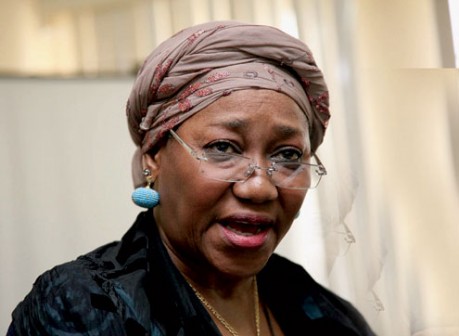 She restated this determination on Monday August 30, 2010 at the opening ceremony of a training programme on Anti-Money Laundering/Control of Terrorist Financing  being organised by the United States Federal Bureau of Investigation, FBI for EFCC operatives and other law enforcement officers at the Commission's Training and Research Institute, TRI, Karu, Abuja.
Speaking while answering questions from journalists at the ceremony, Waziri said: "We are not going outside the rule of law but we have powers to do certain things. I mean, if you have a case in court and we know very well that we charged you to court and the case is ongoing, you have not cleared your name but you want to take another corner and be relevant, there are many ways that we can stop you.
"You see, you know the law, a man is presumed innocent until proven guilty by a court of competent jurisdiction. Now you don't publish names that these people are disqualified by mere publishing names, you will be violating their fundamental rights.
But as I told you, there are ways of working out all these things which I told you that we will let you know.
"I don't want a situation where we will be seeing as misusing our powers to publish the names. Of course, we have the names of Politically Exposed Persons whose cases are pending in court for the past five years. With the brief on the cases, this is not violating anything; we are just telling you that we have these cases pending. But once you published a name that this man is banned, it is a different thing. But we can't do that. How we will do it along with others in the best interest of the law and the nation, we will keep it as a strategy for now."
She further explained that the collaboration with the FBI on the training of EFCC operatives as part of on-going partnership between EFCC and its counterparts outside the country. She dismissed errorneous impressions being created in some quarters that foreign partners had stopped supporting the Commission as mere propanda by a clique for selfish reasons.
In her words,"Yes, we are collaborating with FBI. I just came back from the US where I had four sessions with the Department of Justice. We talked about many things including capacity building, sharing of information and intelligence. I also went to the Under-Secretary of State and we had a session in the presence of our Ambassador to the US , Prof. Adefuye. We have been cooperating.
"You see, that statement that the EFCC had fallen-off was misinformed. For obvious reasons I knew where it was coming from. But it was really not the situation at all. And I am sure that by now they have realized that we are trying our best. They have seen figures and cases filed that they can crosscheck. So, it is not story telling."
"The cooperation has always been there with the FBI, European Union, the UNODC, German Police, French Police, Met Police and many others  in so many areas."
In his remarks, FBI representative leading six others for the training, Victor Mc Collum corroborated Waziri and said "my experience since I came here is that the cooperation has been very large between the Nigerian law enforcement agencies and the FBI that I represent. The relationship has been outstanding. Everything we have tried to accomplish here so far, we have been able to do. We have had great cooperation from the institutions we have worked with. They have opened up doors for us. Likewise, we have been able to provide the institutions with some assistance and a lot of collaboration.
"We have worked together on criminal investigations and terrorism matters. So, the cooperation is good. Our perspective is that the Nigerian law enforcement agencies are willing, just as we are willing on the US side.
"Of course, we still have a long way to go because traditionally law enforcement agencies tend to be behind the criminals, we are always trying to catch up. So, we have a long way to go. But we have worked together moving in the right direction. In my perspective, the cooperation has been very, very satisfactory. We just really have to step up to move forward and do the things we need to do to help maintain peace and security not only in Nigeria , not only in the US but in all parts of the world as well.
"Historically because criminals are always initiating the action, and we are to react to the action, it is difficult to get ahead of them. However, two things like following the money of criminals and terrorists allows us to stay with them pre-empt them or even be ahead of them or prevent something from happening."
The two-week training programme which drew about 40 participants from the EFCC, the Nigeria Police, National Drug Law Enforcement Agency, NDLEA and the State Security Service, SSS, would be facilitated by six officials of FBI and one from Internal Revenue Service, IRS.
Load more