Thousands of landlords in Awori area of Abule-Egba in Ojokoro Local Council Development Area, LCDA, of Lagos State, South West Nigeria, today took to the streets protesting against the plan to demolish their houses.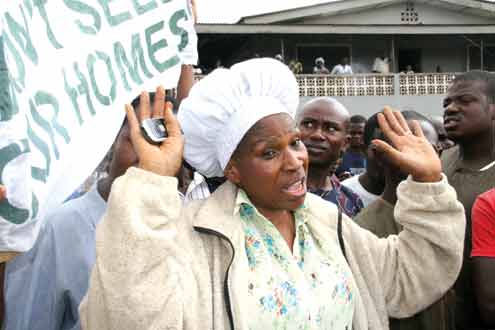 Most of the landlords who told P.M.NEWS that they built their houses in the area over 30 years ago, are protesting against the decision of the Carena family to evict them after winning a land dispute in court.
Trouble started when the Carena family, after winning the suit, requested that landlords in the area to pay N4.5 million each or their property would be taken over and demolished.
This was described as an outrageous demand by the landlords. They, however, acceptd to pay N500,000 each to the new land owners.

P.M.NEWS gathered that the request of the landlords was turned down by the Carena family who insisted on carrying out the demolition of the affected buildings this morning.
This moring the family allegedlyinvaded Arowolo, Segun Akinola and Abiodun Onitiri streets with thugs loaded in three mini buses to demolish the houses.
The landlords and residents on sighting the invading thugs took to the streets in protest, inviting the police from Area 'G' Police Command to come to their rescue.
Mr. Francis Mobolaji Odesanya, Commander, Area 'G', Ogba who led his men to the scene, quelled the protest and appealed to all parties concerned to maintain peace and order.
A lawmaker in the state House of Assembly, Hon. Ahmed Omisore, who was at the scene, also sued for peace.
—Yusuf Mohammed & Tunji Obasa
Load more