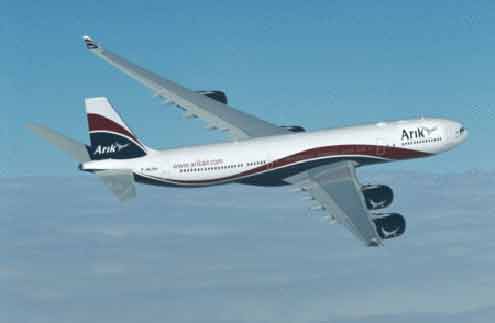 Hundreds of air travellers were this morning stranded at the General Aviation Terminal (GAT) and the Murtala Muhammed International Airport (MMIA) in Ikeja Lagos, South West Nigeria, after the National Airspace Management Agency (NAMA) grounded Arik Air over unpaid debt.
NAMA had given heavily indebted airlines untill yesterday to pay years of debt or be grounded. The agency approves flight plans filed by airlines and can deny same to some airlines.
The agency's Head of Public Affairs, Mr. Supo Atobatele, told our correspondent that only ten airlines that complied with its demands as at this morning were flying.
"Ten airlines have complied and are flying, except Arik," Atobatele said.
Some of the airlines that were flying included, Air Nigeria, Aero Contractors, Dana Air, Chanchangi Airlines, Overland Airline, Associated Airline.
Atobatele urged Arik to comply with the Federal Government order and be allowed to fly again.
"It is not our duty to ground airlines, but they are not flying, others have complied, why shouldn't they?" He asked.
Arik Air information officer, Mr. Banji Ola, could not be reached through his phone.

—Simon Ateba
Load more