Senator Jauji Waziri, the husband of Mrs. Farida Waziri, boss of the Economic and Financial Crimes Commisison, EFCC, has been accused of rigging the Gombe South Senatorial Zone bye-election as senatorial candidate of PDP.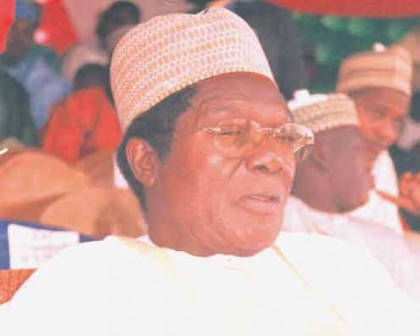 The election, which Waziri won, was held on 21 August. It has been trailed by reports of rigging and other malpractices. He was accused of collecting N80 million from his wife, Farida, to spend on his election.
Former military head of state, General Muhammed Buhari, yesterday alleged that officials of the Independent National Electoral Commission, INEC, colluded with the People's Democratic Party, PDP, to rig the elections held in Bauchi and Gombe states.
Buhari said the INEC officials reduced the bye-elections to a money spinning business.
However, Senator Waziri has denied that he got N80 million from his wife to sponsor his election.
Senator Waziri who spoke to P.M.News on phone debunked the allegation that his wife gave him the money to sponsor his election to the Senate in the just concluded bye-election.
He said that the allegation was the handiwork of mischief makers, adding that the EFCC Chairman does not have such money.
"Tell me where she will get the money from," Waziri fumed.
Senator Waziri, who defeated the other two candidates, Achana Gaius of Action Congress of Nigeria, ACN, and Barrister Abisha Anderiya of CPC, said that he was not a new comer in the Senate, having been elected twice as a member to the Constitutional Conference and once elected senator. He said he does not require such money to win an election.
He added that he had been in politics for over 30 years, pointing out that his election was through the mandate of his people who feel he is a worthy representative.
On the allegation that he separated from his wife, the EFCC Boss, but later reconciled after her appointment, Waziri also debunked this, saying it was also the handiwork of mischief makers.
"They are stupid. Look I got married to Farida 40 years ago and we have lived together as my only wife," he fumed.
On the allegation that the August 21 bye-election was characterized by rigging, manipulations and electoral malpractices, Waziri insisted the election was free and fair.
Meanwhile, Achana Gaius of ACN and Abisha Anderiya of CPC have vowed to challenge the outcome of the bye-elections in court.
Gaius told P.m.news that the conduct of the election had put INEC to test whether there will be free and fair election in 2010.
"We say we have a credible INEC Chairman in the person of Prof. Jega but what I witnessed during the election was a clear indication that Jega may not guarantee this nation free and fair elections in 2010," he said.
P.m.news reports that there was general outcry from members of the public that the two senatorial bye-elections was full of manipulations by both the Gombe State government and the People's Democratic Party, PDP.

—Ben Adaji/Jalingo
Load more