Against all expectations, there will be no tenure extension for Governor Segun Oni of Ekiti State and other state governors whose victory was annulled by election tribunals but contested in the rerun elections and won.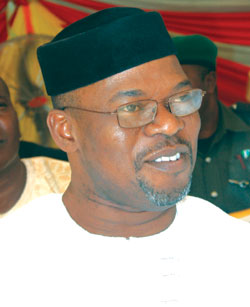 This indication became clearer today following a public announcement by the Independent National Electoral Commission, INEC, that governorship election would take place in January next year in all the states of the federation except in four states.
The four states where governorship election won't be held in January 2011 are Rivers, Edo, Ondo and Anambra states.
According to the public announcement published in some national dailies today, the governorship election in Rivers State will take place in June next year, that of Edo will take place in July 2012, in Ondo, the election will be held in November 2012, while that of Anambra will take place in November 2014.
The statement, which was signed by Abdullahi A. Kaugama, Secretary to the Commission, said the clarification became necessary following "The amendments to section 180 of the 1999 Constitution and judicial pronouncements on the tenure of state governors. All political parties are hereby requested to make preparations to nominate candidates for the elections accordingly."
There had been clamour for tenure extension for some governors whose election was annulled at the courts or tribunals but contested in the rerun and won. These governors want their tenures to start afresh from the day they were reelected. That hope has been dashed by the amendment to the constitution.
—Ada Owojela
Load more