Emeka Ezeogu, former Super Eagles' Defense Trojan, who just returned to Nigeria after so many years in the United States of America, USA, in this interview with ADEBOBOLA ALAWODE disclosed why he was nicknamed "The Destroyer" during his active days in the national team.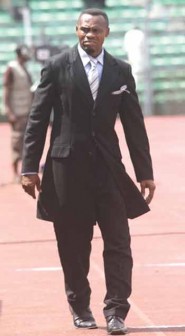 How do you feel to be back to your country?
I feel good, glad to be back home after a long time in the United States of America. I'm proud that I have stayed this long in Nigeria.
What are the changes you've noticed since your return?
A lot of things have really changed. There is no grassroots football any more. The development area of the game is no more active.
What were you doing in  the United States?
I was a student, coach and also marketed football in the US and other parts of the world.
Could you mention some of the teams that you have coached?
I have coached many teams and schools in Brooklyn. I have coached a lot of colleges and universities. I coached Borough of Manhattan Community College, New York City College of Technology,  Deportivo Municipal, Lima for two seasons and Connecticut Wolves (A-League ) among others in the US.
Apart from USA, where else did you coach?
I also coached in India. After my stay in the USA, I went to my former club in India, Churchill Brothers  Sports Club before I called it quit. I'm now coaching Heartland of Owerri, Imo Sate, Nigeria.
How would you rate football in India?
Football is developing in India, if you check the internet you will find a lot of Nigerian footballers plying their trade there. If the league is not good I don't think I would have played there, likewise other Nigerians who are there.
Do you have any coaching certificate that got you get these jobs?
Yes I told you that while in the US I was a student, it was during my stay in the US that I attended a coaching course and obtained a United States Soccer Federation, USSF, coaching license and the Netherlands Football Federation, KNVB, Netherlands international license.
How would you rate the current crop of Super Eagles compared to what was obtainable during your time?
No, there is no comparison. I mean you can't compare the calibre of players in the team now with ours. You can't compare both teams because there is no comparison, in terms of passion, commitment and even talents. I hate to see or hear when people make comparison or try to compare us, we are poles apart in different areas of the game. There are no grounds to compare both teams.
During your days in the national team, you were nicknamed the destroyer, where did the name come from?
The nickname came from the former coach of the Super Eagles, Clemence Westerhof. He always wanted me to keep the opponents at bay, and I did that. I had that tactical discipline to do my job whenever I was called upon. Ever since I took on that role, the team have never gotten any player like me.
You saw the Super Eagles at the World Cup, how would you assess their outing ?
We went with no team. My friends from the United States, those who know the game inside out, called me and asked: do you take fat players to the World Cup? If you look at the team critically you will find out that most players in the team were fat. Most of the players were so fat that they needed to lose 12kilos if they must make any team. I don't think Lars Lagerback and his technical crew knew what they did in South Africa.
Any plans of taking up a national team job?
Yes, but I have to get the recognition and that is what I'm doing now with Heartland. I'm the only Nigerian coach, who has coached in Europe, America Asia, South America and now in Africa. I'm also the only coach who played in the continent that I mentioned. But we come from a country where they don't recognize their own. It is no surprise that a lot of people don't know some of my achievements. We also have people with little minds managing football. We have people, who are not sincere, managing our football. People like Taiwo Ogunjobi, Amanze Uchegbulam and Sani Lulu did not do much for our football. We have to probe the immediate past board to know how they spent the money from the coffers of the Nigeria Football Federation, NFF.
Load more