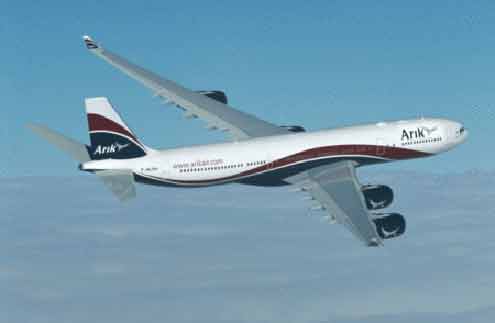 Arik Air yesterday lost at least N180 million and cancelled 120 domestic flights after it was  grounded by the National Airspace Management Agency (NAMA) for refusing to pay years of  terminal navigational charges, P.M.NEWS has learnt.
However, after threatening to move its operations out of Nigeria at a press briefing yesterday  and boasting that it will not pay any charges as the matter is pending in court, the management  of Arik Air last night kowtowed and paid N50 million to NAMA to resume flight operations today.
"Around 10 p.m. yesterday, they came to pay N50 million. They can resume operations this  morning," Mr. Supo Atobatele, NAMA's Head of Public Affairs, told our correspondent on  telephone early today.
Atobatele added that no airline should be above the law and wondered why Arik Air was the only  airline that refused to pay when ten others had complied with the agency's demands and have  been flying undisturbed.
"This is the first time since 2003 that such an operation took place. Several ministers had  come and gone, but we thank the current minister of Aviation," he said.
Some of the airlines that had complied with the agency's demands include: Air Nigeria, Dana  Air, Aero Contractors, Chanchangi, IRS, Bristow and Associated Airlines.
With at least 100 passengers on 120 daily domestic flights paying a minimum of N15, 000 on each  route, financial experts believe that Arik Air has lost not less than N180 million in addition  to parking and catering services charges.
Asked by journalists yesterday at Arik Headquarters in Ikeja, Lagos, South West Nigeria,  whether he could repeat categorically that Arik Air will not fly again in the country if NAMA  insists in collecting its money, Mr. Chris Ndulue, the airline's deputy vice-president said: "I  thought I was talking categorically. Everything I said before, I said it categorically."
For many years, airlines had failed to pay navigational charges. The action led NAMA on  recently introduce a pay-as-you-go mode of payment to avoid accumulation of charges by  airlines. The scheme compels airlines to pay navigational charges before take-off.
Yesterday for example, passengers on Arik Air's international flights were delayed for long and  were only allowed to take off after the airline scurried to NAMA and paid.
Arik Air has argued that the matter, which is at the Supreme Court, must be determined by the  court before NAMA, goes ahead to implement any demand.
"Arik Air was prepared to operate its normal schedule today (yesterday) but was refused  clearance to fly by NAMA causing untold hardship to hundreds of travelling guests across the  country.
"The dispute in respect of domestic charges has been on since 2002 and is currently before the  Supreme Court; Arik Air does not wish to take any action that might prejudice the outcome of  the dispute," Ndulue told journalists in a prepared statement.
Early last year, when the Federal Government compelled domestic airlines that were operating  international flights from the Murtala Muhammed International Airport (MMIA) to relocate to the  Murtala Muhammed Airport 2, Arik Air was the only airline that failed to comply as it relocated  its operations to the General Aviation Terminal (GAT).
Meanwhile, yesterday, other airlines increased their flight frequencies as passengers besieged  MMA2 to fly. The terminal was filled to capacity as passengers abandoned GAT for MMA2.
—Simon Ateba
Load more