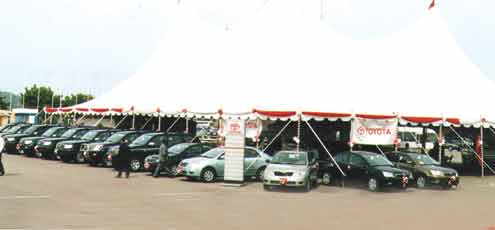 The 6th edition of the Lagos Motor Fair organised by BKG Exhibitions Limited, will begin on  October 14, and is scheduled to run till 24. The show hopes to create a forum where players in  the automobile industry get a chance to engage the public and consumers in feedbacks or  complaints about their products.
Addressing newsmen recently on its activities, the CEO of BKG Exhibitions, Mr Ifeanyichukwu  Agwu said that major automobile brands and car dealers have registered their presence at the  show, to display their latest range of products. Germaine and Elizade Motors, dealers in Toyota  cars, are displaying the latest range from Toyota products like the Prado Jeeps, Corolla, Hilux  Jeep and Avensis.
Stallion Motors, dealers in Honda, Audi, Hyundai, Volkswagen and other car brands, is also  showcasing its latest products. Others include SCOA Motors, Peugeot, and Hyra Motors, the sole  distributors of Geely, and Brilliance motors.
The Auto Fair which is in its 6th edition this year has the theme: "Driving Technology".
Agwu stressed that the annual motor fair has the ultimate objective of providing a good forum  for existing and potential practitioners as well as other stakeholders in the automobile and  allied businesses in Nigeria to explore and exploit the potentials that abound in the industry.
"The fair has grown over the years and have always had in attendance high profile exhibitors  and visitors from Nigeria and abroad. It avails the participants the opportunity to reach out  to more customers; interact with policy makers; make new contacts and networks, amongst  others."
Agwu stated that virtually all the major automobile manufacturers and dealers in all categories  of automobiles would be at the fair, hinting there would be a very keen competition among them  for the attention of visitors and prospects.
Special highlight to this year's edition include a Stunt Driving by Terry Grant from the United  Kingdom with 16 Guinness World Records. "These car stunts drivers will use their precision  driving skills to entertain spectators while also passing the road safety message across, that  for one to be a good driver, one needs to go for all relevant driving and road usage trainings  with the relevant authorities."
Load more