Supporters of former military president, Gen. Ibrahim Badamasi Babangida (rtd), in Lagos  yesterday flagged off campaign in the state saying that President Goodluck Jonathan is a good  man but lacks a structure within the People's Democratic Party (PDP) to win the party's  primaries.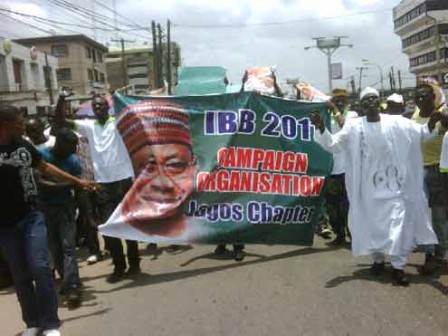 The supporters, in their hundreds, marched along the Opebi-Allen Axis of Ikeja brandishing  IBB's posters and singing songs of victory.
"We are here to show that IBB has grassroots support in Lagos. That is why you saw people  coming out in their thousands to show their support for him. We believe so much in IBB, because  since he left no other leader has been able to match what he did as President," Prince Ebunola  Martins, coordinator of IBB Campaign Organisation in Lagos, told journalists at a press  briefing after the march.
Ebunola told journalists that IBB remains the most popular candidate within the PDP and scares  other candidates to the extent that others are trying to stop him, adding that they will fail.
"Everywhere we have gone, IBB has remained the favourite candidate and if he were not, they  will not be scared of him.
"IBB is the man to beat. President Jonathan is a good man but he does not have a structure that  can put him there. To be President, you can't just wake up and win. There has to be a  structure. That structure, IBB has it. That is why he was able to bring Obasanjo out of prison  and instal him as President," he said.
As Ebunola spoke about IBB's popularity in the state, other supporters nodded their heads in  agreement and sometimes, clapped.
Ebunola said that when former President Olusegun Obasanjo picked Jonathan as the running mate  of  the late President Yar'Adua, he had no support in the South West.
He said that with the construction of the third Mainland Bridge during IBB's administration,  traffic gridlocks have greatly reduced in the state.
"There is no local government in Nigeria that IBB did not empower. In Lagos, it was during IBB  that the local governments went from eight to 20. Women were empowered and villages were for  the first time connected to electricity. During IBB's time, money was able to flow not only  within the rich but also to the poor and that is why we are supporting him, that is why  Nigerians want him to come back," he said.
—Simon Ateba
Load more