After a keenly contested election, the former Provost of the College of Medicine of the  University of Ibadan, Profession Isaac Adewole, yesterday emerged as the new Vice Chancellor of  the premier university.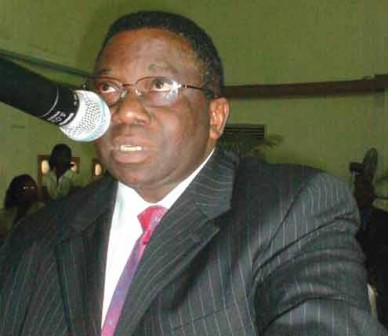 The Pro-Chancellor and the Chairman of Council, Chief Wole Olanipekun (SAN), who disclosed this  to newsmen at the council's chamber of the university this morning, described the appointment  process as the most transparent one in the history of the university.
His words: "We are happy to inform you that governing council of the institution has approved  after sober reflection the appointment of Professor Isaac Adewole."
He added that Adewole beat his competitors hands down in an interview conducted for the six  contestants that made it to the final stage.
He said that the new VC would commence his tenure on December 1st 2010.
Olanipekun who explained the process of the appointment stated that President Goodluck Jonathan   would be informed about the development as soon as possible.
According to him, this is the first time that the university would appoint a vice chancellor on  its own, saying that in the past, the job of the selection board would stop at picking three  names that would be sent to the president afterward the president would pick one.
He said that the council acted in line with the new law of appointing new vice chancellor in  accordance with the autonomy granted to Nigerian universities.
According to investigation, the gynaecologist emerged about 10pm yesterday after an interview  organized for the six contestants that made it to the final stage.
A professor at the College of Medicine at the University of Ibadan, Nigeria since 1997, Isaac  Adewole is currently a consultant obstetrician and gynaecologist at the University College  Hospital (UCH) in Ibadan.
Adewole obtained MB BS degree from the University of Ibadan in 1978 after which he underwent  his further medical training in Nigeria. He became a Senior Registrar in the Department of  Obstetrics and Gynaecology at UCH in 1984.
He then travelled to the UK for a Research Fellowship in the Department of Medical Oncology at  Charing Cross Hospital in London.
He became a Senior Lecturer at the College Of Medicine in the University of Ibadan from  1992-1997 and Acting Head of the Department of Obstetrics/Gynaecology at this university from  1999-2000. For the next two years, he was Dean of the Faculty of Clinical Sciences & Dentistry,  before becoming a Provost at the College of Medicine at UCH from 2002-2006.
Professor Adewole is Director of the Prevention of Mother to Child Transmission (PMTCT) of HIV  Project at UCH, Chairman of the PMTCT National Task Team Subcommittee on anti-retrovirals for  the PMTCT of HIV and the country's Principal Investigator for 'Operation Stop Cervical Cancer'  in Nigeria.
—Gbenro Adesina/Ibadan
Load more