No matter the shape of your face, there will be a particular hairstyle that looks best on you,  except for the style which looks great on almost everyone. Here's a quick guide of what to look  for and what to avoid for five different face shapes.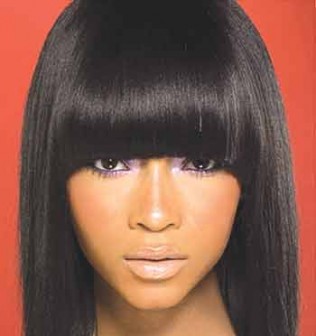 Round Face Shapes
Your goal is to create less volume around the face. You also want to minimise the appearance of  roundness.
Styles that are flattering and stylish: Try cuts that fall just below the chin. Soft, graduated  layer are a great bet because they make your face appear slimmer and tend to remove bulk and  weight from the sides. Consider wispy and tapered ends. These de-emphasize the roundness of  your face. Bangs are flattering, but keep them long or side-swept.
Avoid: One-length, blunt cuts if you have short hair. Curly, short hair is also a no-no. These  only emphasize your roundness.
Square Face Shapes
If you have a square face, you'll want to play down your strong, angular jaw. Texture, in the  form of curls or choppy ends, does this brilliantly. You can also get away with short, spiky  cuts and long, sleek styles with layers that start at the jawline and continue downward.
Avoid: One-length bobs (especially chin-length) and blunt-cut bangs. These will make your face  look even more square.
Oval Face Shape
The oval face is the most versatile shape. You can pull off almost any look: short or long,  straight or wavy. For your own most flattering look, consider your best feature and highlight  it with your hair cut.
If you have gorgeous bone structure, consider an angular bob that shows off your chin. Great  eyes? Blunt or side-swept bangs are a great bet.
Styles that are flattering and stylish: sophisticated bobs, bangs, long and beachy waves
Avoid: Short layers that add height on top of your head. Aside from being dated, short layers  can make your face appear long. If your hair is thick or curly, avoid a blunt cut. You'll look  like a pyramid. If you have curly hair, short hair is generally a no-no.
Long or "Oblong" Face Shapes
The perfect hairstyle for this, is one that doesn't drag down the face, yet adds width.
Styles that are flattering: Brow-skimming bangs. Chin-length bobs are also ideal because they  create the illusion of width. Shoulder-length bob is very flattering on a long face. Just make  sure your stylist cuts the hair a bit shorter in the back so it doesn't look boring. Curls and  waves work well because they add width to the face.
Be careful with long hair: Hair that is too long like can drag down the face. Long layers work  best with pieces hitting at the nose, the chin and the collarbone. Consider a v-shaped style  where the length is mainly in the back, while the sides and front of your hair appear shorter.  Also consider adding wave or curls to the hair.
Heart Face Shapes
Your pointy chin tends to be the focal point of your face. Draw attention to your eyes and  cheekbones instead with side-swept bangs like Paris Hilton, brow-grazing fringe, a strong part  and hair that falls at or below your jawline. Have short hair? Keep top layers soft and long.  Long hair? Go for long layers that graze your cheek bones.
Avoid:Â Short, blunt-cut bangs and harsh, choppy layers.
This is how to make sure you end up with a hairstyle you love? The biggest rule when off to the  salon is simply, "Show, don't tell." This means show your stylist a picture, don't try to  explain the hairstyle and when it comes to length, karate-chop with your hand exactly how short  you're willing to go, don't say, 3 inches.
As a beauty writer, I've heard relatively few hair salon horror stories. What I hear a lot of  is what I'll call "Hair Disappointment Stories." This is when women leave the salon  underwhelmed. Perhaps they expected to feel sexier, they wanted brighter highlights or an  edgier cut. Maybe the stylist went too short. In any case, they didn't really get what they  were hoping for.
There are some girls who just look better with tousled hair, rather than perfectly  straightened, flat-ironed hair is one of them.
To get the beachy, wavy look it helps if your hair has some natural wave to it and this look  works on hair of almost any length, even chin-length hair or a bit shorter. For a quick beachy  look, let hair air dry, scrunching it as it dries. Once dry, twist pieces around your fingers  to create "ropes." Spritz each rope with hairspray.
If you have straight hair, you can get this look with a curly iron and some salt spray.
Load more