It is a long journey from the Niger Delta to the concert halls of the United States, but it is  one that Nneka is taking in her stride.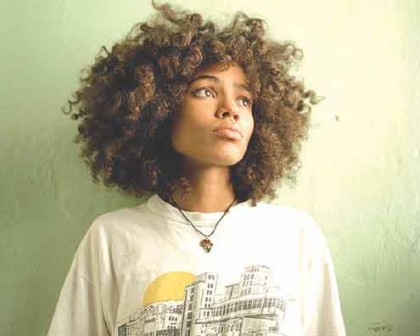 Nneka is a Nigerian singer and songwriter, who is making her name on the world stage and  earlier this year, released her debut album and tour in the US.
At 28, Nneka is relatively a newcomer to music. She has only been singing for around five  years, but wasted no time in winning over both fans and critics.
Last year, she won the prestigious MOBO (Music of Black Origin) Award in the UK for Best  African Act.
Her work combines soul, hip hop, reggae and African music, but the lyrics have an unashamedly  Nigerian tone, covering among her themes, injustice in the oil-rich Niger Delta.
If you speak about corruption or hypocrisy of religious leaders, people don't want to hear  that.
"My music is very versatile, very mixed. I have different influences, Afrobeat, hip hop,  reggae, raga, soul, a little bit of rock and, of course, the indigenous African or Nigerian  influence," she told CNN.
Nneka grew up in Warri in the Niger Delta region with a Nigerian father and German mother. She  went to university in the German city of Hamburg and it was there that her singing career took  off.
She told CNN: "When I went to Germany and being in a place where you have no connection, you  are confronted in a totally different culture, tradition, mentality."
"You're here on your own, you need to function and that's where music came in," she continued.
It didn't take long for her voice to make an impression in Germany and she began touring Europe  and releasing albums while still in university.
In an interview with the Sunday Times last year, Nneka said: "In Nigeria, if you say you're a  singer, people say, 'So what? Everyone sings.' In Germany, my voice stood out more."
This year, Nneka is touring the United States for the first time, playing at venues such as the  Los Angeles Troubadour, a West Hollywood club played by Elton John and James Taylor early in  their careers.
She has been chosen by American rapper Nas and Jamaican reggae star, Damian Marley, to join  them on their Distant Relatives tour.
"It's not just a tour about entertainment or music alone, but about connecting people around  the world and making us understand that we're all part of that one entity, which is love,"  Nneka told CNN. "And I'm happy that I'm the person they chose to represent Africa, which is a  big opportunity."
While Nneka is captivating audiences around the world, it is playing in her native Nigeria  which is most rewarding—but also risky—for her because of the political content of her lyrics.
According to her, "I must say I feel responsible for my people. People who might not have the  courage to stand up or the opportunity to stand up and speak about things that are very  delicate and that people do not want to hear."
"People can identify," she explained, "but at the same time, there are a lot of people,  especially the government, who have problems with my speaking my mind or the minds of many.
"If you speak about the exploitation in the Niger Delta, nobody wants to hear that," she  continued. "If you speak about corruption or hypocrisy of religious leaders, people don't want  to hear those things."
Nneka gives some hint on the background to her passionate lyrics when she describes her  upbringing in Warri.
"You can imagine what kind of condition that may be, growing up around pipelines, around people  who are very agitated and fighting for their rights, human and civil rights," she told CNN.
"But you know, despite that chaos and the agitation, people still are able to feel comfort and  peace within the madness," she continued. "That is actually what has triggered me into going  into music and doing music the way I do it."
Load more